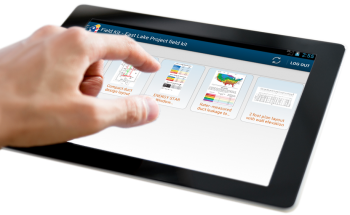 With the new Building America Solutions app, residential building professionals can create customized field kits that can be stored on their mobile devices and taken to job sites. | Illustration by Pacific Northwest National Laboratory
The Energy Department's Building Technologies Office's Building America program aims to improve energy efficiency, quality, comfort, and safety of existing and new homes throughout the country.  Through the Building America Solution Center, the program provides accurate, reliable, and expert guidance that gives residential building professionals access to the latest information on high-performance design and construction topics.
The Solution Center contains information on a variety of topics, such as air sealing and insulation, HVAC components, windows, and indoor air quality. The Solution Center is a strong, community-driven online resource that combines all of the research conducted by the Building America program and content from the ENERGY STAR for New Homes program into an easy-to-use tool for builders, contractors, and architects.
The Building America program has created a new mobile app called, Building America Solutions to make information even more accessible for industry pros on the go. Solution Center content can now be viewed everywhere by all users with mobile devices such as smart phones and tablets. The Solution Center automatically adjusts to any screen size. Users can create customized field kits in the Solution Center and use the Building America Solutions app to take the information to job sites. Both the website and the app were designed by the Department of Energy's Pacific Northwest National Laboratory.
For those interested in downloading the app, below are five great reasons why every residential building professional should make this a "must have" app.
1. Building America Solutions is compatible with both iOS and Android operating systems. It's available for Android tablets and smartphones running Android 4.0 or higher, and for iPad and iPhone devices running iOS 7.0 or higher via Apple's App Store.  
2. Just like the Solution Center website, the app is free! The Building America Solutions app can be used to access customized content based on the Building America program's world-class resources. Users will receive the most up-to-date expert research related to residential buildings  and energy efficiency.
3. In the Solution Center, registered users can create their own customized packages of residential construction information in field kits. The Solution Center has been upgraded so users can design multiple field kit packages for specific projects or save details for their next meeting with a design team or training in the field. Users can select from guides, images, and CAD files on advanced framing, installation of ducts, insulation, HVAC and over 150 specific measures for constructing high-performance, energy-efficient buildings.
4. With the Building America Solutions app, registered users can synchronize their field kits directly with their tablet or smartphone. Pushing the synchronize button within the app will provide users the latest versions of their customized content and will put it right on their mobile device where it is just a click away.
5. With customized content now directly accessible on mobile devices, registered users can view or share their synchronized content anytime, anywhere. Users can take their field kits to any location, with or without cell coverage or Wi-Fi, and get their message across on remote job sites, rooftops, or basements. It's now possible to view pictures or CAD drawings of what needs to be done, to help installers or code officials understand an innovative feature.
Michael Baechler is leading the team responsible for developing the Energy Department's Building America Solution Center website and its new app.