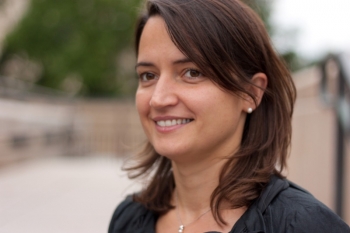 Dr. Lidija Sekaric manages the Technology to Market Program for the Office of Energy Efficiency and Renewable Energy's SunShot Initiative.
Dr. Lidija Sekaric manages the SunShot Initiative's Technology to Market Program. Her team's portfolios span business incubation programs for start-ups, technology commercialization pathways, innovation in manufacturing, cost analysis, and strategic programs and analysis. Prior to joining SunShot, she served as a senior advisor in the Office of the Under Secretary of Energy and as a technical and market advisor on some of the world's largest distributed solar generation projects. Prior to joining the Energy Department (DOE), Dr. Sekaric conducted research in nanoscale science and engineering; her accomplishments include developing record-setting devices in nano-photonics, electronics, nanomechanics and sensors. She has over 40 scientific publications and holds 23 U.S. patents. Dr. Sekaric received her Ph.D. and M.S. in Applied Physics from Cornell University and her A.B. from Bryn Mawr College.
1)  What inspired you to work in STEM (science, technology, engineering, and mathematics)?
Probably a better question is who, and that was nearly a whole village: my sixth-grade physics teacher, my mother, who helped me connect the physical world and the equations, my father, who shared his enthusiasm for mathematics, and my college thesis advisor. Physics was probably the only subject that was challenging, yet meaningful, and once I experienced the joy of research, I was hooked for life.
2) What excites you about your work at the Energy Department?
I work on making the renewable energy technology (solar at the moment) a viable contender in our energy future, at one of the defining moments in human history. This work really centers on the issue of whether we can we sustain economic growth here and elsewhere by preserving two essential resources for that growth: access to energy and the planet's resources. There are very few places where one can have impact at a national level in any field, and when you are working in a policy-sensitive area, such as the economics of energy, working at DOE is the place to be.
3) How can our country engage more women, girls, and other underrepresented groups in STEM? 
As in any field, first and foremost, we need to show that there are sustainable job opportunities and the commensurate compensation for something that takes years of rigorous training. Second, we do need to find a way to communicate how rewarding it can be to work in these fields and what impact innovation and invention have. At the basic level, if we give a solid math and basic science foundation to every young kid, there will be not just a larger population that will appreciate science, but also one that will demystify what it takes to be in STEM and one that will be prepared to pursue it as a career.
4) Do you have tips for someone looking to enter your field of work?
Take lots of math, if you are young, and learn about the field you want to enter, if you are transitioning careers. I do admit that for a scientist who went from a lab to the policy world, there are very few things that can prepare one for a seamless transition. For PhDs and professional engineers, professional society-sponsored policy fellowships, such as AAAS, APS, ACS, and IEEE, do offer a smoother path.
5) When you have free time, what are your hobbies?  
I run and I read, anything I can, mostly related to my field. I also try to spend as much time as possible with my family and friends.