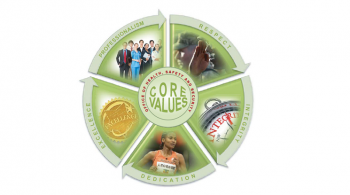 This graphic serves as a reminder of HSS's commitment to its core values of:
Professionalism:
We pursue the highest level of competence.
Respect:
We treat others with dignity and foster a free exchange of ideas.
Integrity:
We are truthful, ethical, transparent, and accountable for our actions.
Dedication:
We commit to protect the health and safety of our workers, the public, the environment and national security.
Excellence:
We strive for high quality results through innovation and continuous improvement; individually and as a team.