Michael Colbert - Deputy Director, Office of Diversity and Inclusion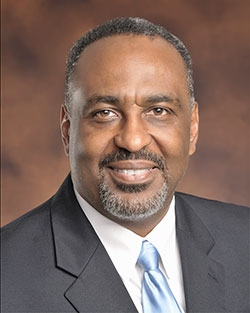 Michael Colbert is the Deputy Director of the Office of Diversity and Inclusion at the Department of Energy, where he is working to create and sustain an organizational culture that values diversity and inclusion, and fosters an environment where employees are respected, and fully engaged in contributing to the operational success of the Department of Energy's mission, while realizing their full career potential. Mr. Colbert also oversees the work that will enable the Department to become an employer of choice; creating healthy and productive work environments that are mission focused, with accountable leaders, managers and supervisors who actively promote workforce diversity, workplace inclusion, and continual learning as a business imperative that is critical to the continued success of the Department of Energy.
Mr. Colbert started his federal career in 1992 with the United States Department of Agriculture (USDA), where he managed and delivered vital rural community development programs at the local, state and national office levels, utilizing direct or guaranteed loans, and grant programs with the Farmers Home Administration (now Rural Development). Six years later in 1998 he began his extensive career in civil rights, with Title VI, VII, VIII, IX, environmental justice and a host of other laws and executive orders. In 1999 he joined USDA's Animal and Plant Health Inspection Service and continued working in the civil rights area. In 2000, Mr. Colbert moved into the role of a conflict resolution specialist, providing mediation/ombudsman services, team building training, and group facilitation. In 2003, he volunteered to be transferred to the Department of Homeland Security's Customs and Border Protection, and served as their Alternative Dispute Resolution program manager for Equal Employment Opportunity/Civil Rights complaints, and developed a strategy for dealing with non-Equal Employment Opportunity complaints, with the recommendation for creating an ombudsman office.
Mr. Colbert later re-joined USDA, serving again as a dispute resolution practitioner in 2005. In 2007 he was selected to lead the non-technical Training and Development Branch. In 2008 Mr. Colbert was tapped to lead a newly created Workplace Resolutions & Wellness branch, with a unique alignment of programs that included the following: Alternative Dispute Resolution, Reasonable Accommodations, Worker's Compensation, Drug Free workplace, Employee Assistance Program, Telework/Transit and Work-life-wellness. In 2010 he joined USDA's Cultural Transformation Initiative as a Special Assistant for Diversity and Inclusion where he developed the framework for an innovative diversity and inclusion program. In 2012 Mr. Colbert was reassigned to the Civil Rights Enforcement and Compliance Division as Deputy Director, with the primary mission of standing up an Office of Diversity and Inclusion.
Mr. Colbert was born and raised in Annapolis, Maryland, and was a standout football scholarship athlete. He graduated from Delaware State University with a B.S. in Agricultural Business. Mr. Colbert graduated from American University's Key Executive Leadership Program in Washington, DC, with a Master's Degree in Public Administration in 2002. He lives in Bowie, Maryland with his wife Clara; they have two sons, a daughter-in-law, and two grandsons.