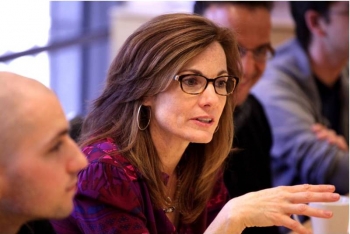 Trish Damkroger is responsible for ensuring the day-to-day messaging, administration, and management of a 900-employee workforce in LLNL's Computation Directorate.
Trish Damkroger is responsible for ensuring the day-to-day messaging, administration, and management of a 900-employee workforce in LLNL's Computation Directorate. She establishes and oversees procedures and implementation plans to comply with external and Laboratory requirements as they relate to Computation. For the last year, Trish has been the acting Department Head for the Computing Applications and Research Department in conjunction with her duties as Deputy Associate Director At-Large. Since joining LLNL in 2002, Trish has held several management positions, including that of Assistant Principal Associate Director for Strategic Communications in the National Ignition Facility (NIF) where she played the key role in developing NIF's communications and outreach strategy. Before joining LLNL, Trish was Peregrine System's Area Vice President for Information Technology. Since 2006, Trish has been a leader for the annual Supercomputing Conference series, the premier international meeting for high performance computing. She has held committee positions, including Infrastructure Chair, Exhibits Chair, Panels Chair, and Workshops Chair. Trish is on the steering committee for SC13 and will be the SC14 General Chair in New Orleans.
1) What inspired you to work in STEM?
My main inspiration was my father. He was the first person in his family to go to college. He became an electrical engineer and travelled around the world in technical marketing for HP. He would bring me back dolls from around the world. I thought engineering was a way to travel the world while doing something useful.
2) What excites you about your work at the Energy Department?
I have supported the Energy Department while working at Sandia National Labs and Lawrence Livermore National Lab for a total of 20 years. Over that time, I have worked in the weapons program, environmental restoration, National Ignition Facility and High Performance Computing. I love the fact that I have been able to spend most of my career at a single employer and done vastly different things. Working at LLNL means I have access to not only top notch experimental facilities but also the world's fastest computers. And I get to work with some of the smartest people. I am always amazed at the caliber of my fellow employees.
3) How can our country engage more women, girls, and other underrepresented groups in STEM?
As I watch my children grow up, I see what happens with girls in the middle school and high school years. Somehow it is no longer cool to be good in math and science. I think I tell my 15 year old daughter every day she is awesome in these subjects. She is finally thinking it is okay to be good in the hard subjects but it has been a daily struggle. Giving these girls mentors and role models may help them see a path forward. And we need more female science and math teachers in the schools.
4) Do you have tips you'd recommend for someone looking to enter your field of work?
My biggest recommendation is to find a mentor and/or ally. It is always easier to do something with a friend. And the second tip is to persevere. Every career has a cycle of highs and lows. Staying focused on what you believe is the best for you will help you be successful.
5) When you have free time, what are your hobbies?
Outside of work and kids, my time is consumed with riding my horse. He is a huge passion of mine and a great way to distress after a long day at work.