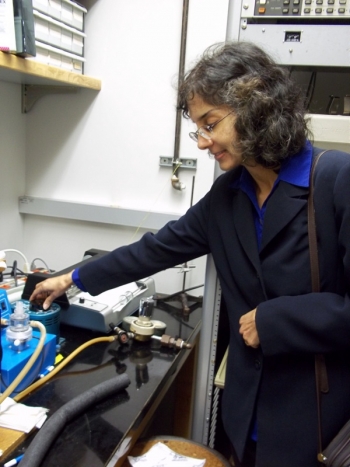 Sunita Satyapal is the Director of the Department of Energy's Fuel Cell Technologies Office within the Office of Energy Efficiency and Renewable Energy.
Sunita Satyapal is the Director of the Department of Energy's Fuel Cell Technologies Office within the Office of Energy Efficiency and Renewable Energy. In this capacity Dr. Satyapal is responsible for the Office's overall strategy and execution, including oversight and coordination of approximately $100 million in research, development, demonstration and deployment activities related to hydrogen and fuel cells.  Dr. Satyapal has 20 years of experience in academia, industry and government, including eight years at United Technologies Research Center and at UTC Power. While in industry, she was responsible for managing research groups ranging from 15 to 50 scientists, engineers and technicians covering a broad range of chemistry and energy technologies, including hydrogen and fuel cells. In addition, she has significant experience in business development and international collaborations.
1) What inspired you to work in STEM?
I owe everything to my parents - my father earned his Ph.D. in agriculture and soil chemistry, and went on to an outstanding career as a Director at the United Nations, dedicated to technical advancement and education, especially for those less fortunate.  My mother got her Ph.D. in theoretical nuclear physics and became a physics professor, which was extremely rare for women at the time.  My parents worked hard to put my sisters and me through school and were the number one reason we all turned out to be scientists and engineers.
I am truly grateful for the advanced education that I have received, and would like the youth of the Nation, especially young girls, to have similar opportunities.  Years ago, I volunteered at Head Start to teach inner city children to read and was honored to receive the Volunteer of the Year Award.  One year, while I worked in industry, I was also honored to help conceive of and develop an organization called FlyingKids to encourage inner city kids to pursue math and science. Through my collaborator, who was a member of a pilot's club, we provided inner city and minority kids with an opportunity to fly in small planes in the co-pilot seat and created training lessons in math and orienteering to promote their interest in school.  As a result, more than 30 inner city or minority children, several of them girls, went through our program and were given the opportunity to serve as copilot of a small plane, which hopefully inspired them to remain in school and go on to fulfilling careers. 
I received my B.A. from Bryn Mawr College in chemistry, Ph.D. from Columbia University in physical chemistry and postdoc from Cornell University in Applied and Engineering Physics.  During my studies, I had the opportunity to work as an exchange student doing research in Japan and experienced true science- I didn't know Japanese, the other researchers didn't know English, the laser manuals were in German- but we all spoke the language of science perfectly together!  I also enjoyed teaching as a visiting professor at Vassar College for two years.  Both my sisters (one who is an astrophysics professor and the other who has two masters degrees- in ocean and electrical engineering), along with my parents, mentors and students have all been my source of inspiration to work in STEM and help motivate young people to work in Science.
2) What excites you about your work at the Energy Department?
Although I enjoyed being in industry and in academia- both as a researcher and a professor, working at the Department of Energy (DOE) over the last 9 years has been especially rewarding because of the far-reaching impact one can have.  Despite 10 patents issued and numerous publications, including in Scientific American, the most fulfilling aspect of my career has been influencing the course of progress of the entire research and development community in the field of energy through our work at DOE.  In addition to working with some of most dedicated and talented people I know, I feel like we have been able to influence progress in my field of specialty- hydrogen and fuel cell technology.  Advancing technologies that can dramatically reduce emissions, improve efficiency and enable the energy, economic and environmental security of the Nation is truly rewarding.
3) How can our country engage more women, girls, and other underrepresented groups in STEM?
Mentors and role models
More specific ways to show young people how careers in science can be exciting
Opportunities for girls/ underrepresented groups both through school and extracurricular activities
Reach girls through traditional groups, i.e. girl scouts with targeted programs
Targeted outreach to undergrad and high schools, female STEM employees can visit schools and talk about their experiences
Outreach to parents of k-12 about the importance of math and science
More female orientated information, i.e. articles in young girls magazines, role models on TV, etc.
Mentoring and specific advice on raising a family and work-life balance
Opportunities to re-enter the workforce after taking time off for family care
Visiting student and shadow programs where students can learn from those already in science careers
4) Do you have tips you'd recommend for someone looking to enter your field of work?
My main advice is to take as much math (first) and science (second) as you can at an early age (and at any age!)- and get 'hands on' experience through science projects and hobbies. Get as much summer work experience as possible.  Do as many different things as you can. Keep asking questions and don't worry about whether they are good questions.  If you're hesitant then use this rule: If you cannot think of the answer yourself in less than a minute, then go ahead and ask the question.  You learn so much more by asking questions.
Communication skills, including both writing and speaking skills, are extremely important.  Depending on the type of job you have, you'll probably write technical reports, possibly articles for publication and material that may be used for filing patent applications.  You may end up writing material for the layperson such as information for a quarterly or annual report.  You could also write proposals for new research ideas and will usually write up the results of your work for reports or formal publication.
Speaking skills are also critical. You will probably give presentations using power point slides and your audience may vary from a few people in a company Board meeting to a technical conference that could have hundreds of people. As you progress in your career, you may be asked to make a keynote speech, give remarks at a large conference or participate on a panel in front of an audience at a technical meeting. Practicing your speaking skills and perhaps taking debate classes would help give you a solid foundation along with your engineering classes.
My overall advice is: if you have a dream- you have to try hard to make it happen and you have to take risks. "To live is to risk dying. To believe is to risk despair. To try is to risk failure. But risks must be taken, because the greatest hazard in life is to risk nothing" (An excerpt from the 'President's Newsletter' from Phi Delta Kappa, November 1982).
5) When you have free time, what are your hobbies?
Although I rarely have free time,  I enjoy the outdoors, reading, writing children's stories, gardening and learning languages (a little bit of French, Russian, Japanese, Italian and Spanish can help a lot when you travel!).  I once spent 3 months in a cabin in the 'wilderness' just hiking, reading, painting landscapes, and writing and someday I hope to have time to do that again.  Other priorities include spending time with my family and especially all the animals in the family over the years.