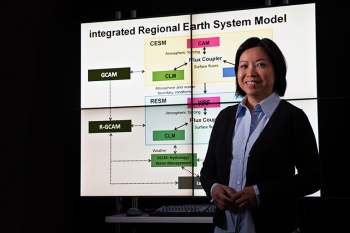 Dr. Ruby Leung, Pacific Northwest National Laboratory, builds accurate, intricate computer models that allow researchers and stakeholders to understand the interplay between Earth, water, clouds, and atmosphere.
Check out other profiles in the Women @ Energy series and share your favorites on Pinterest. 
Building accurate, intricate computer models that allow scientists and stakeholders to understand the interplay between earth, water, clouds, and atmosphere is what Dr. Ruby Leung does at Pacific Northwest National Laboratory. She conducts cutting-edge research and refines models that are vital to predicting climate and understanding the impact of energy policies, new technologies, and our changing climate. As an example, to better simulate climate change effects on hydrologic conditions over mountain watersheds, she developed a unique framework for modeling the regional coupled atmosphere and terrestrial systems. She also applies regional climate models to study hydroclimate processes and climate extremes, and the aerosol effects on regional climate and hydrological cycle. Ruby received her M.S. and Ph.D. in atmospheric science from Texas A&M University. She earned a bachelor's degree in physics and statistics from Chinese University of Hong Kong, where she was the only woman in her graduating class of the physics department. Ruby is an outstanding mentor. She works closely with early career scientists and provides them with opportunities to develop new ideas and excel. She also participates as a mentor to many people through the lab's scientist and engineer development program.
1) What inspired you to work in STEM­­?
I developed a keen interest in understanding nature and how the scientific method worked when I was in high school. I particularly enjoyed physics and math, and liked the challenge of solving complex scientific problems with simple solutions. Unraveling how nature works and knowing that by doing so, we also can discover some solutions to overcoming technological challenges and societal problems are what inspired me to work in STEM.
2) What excites you about your work at the Energy Department?
Working in a Department of Energy national lab is quite different from working in universities. We have a very collaborative environment that encourages teamwork and interactions. I am inspired seeing the creativity in others and discovering different approaches used in widely diverse fields across the lab. The opportunity to address grand challenges that can only be undertaken by big, multi-disciplinary teams is also what excites me about my work at Pacific Northwest National Laboratory.
3) How can our country engage more women, girls, and other underrepresented groups in STEM?
We need to engage them in STEM at a young age and provide an environment where they can be away from distractions once in a while. The opportunity to concentrate and experience the simple joy of scientific problem solving can help develop their interests and build confidence. Both schools and families have important roles to play in this effort. I encourage them to participate in extracurricular STEM activities such as science clubs and science fairs and give them the guidance they need in these endeavors. These outlets can open their eyes to the science problems they can solve and the career options that are possible. Simple activities can be very helpful like exploring nature in the outdoors, visiting science museums, and introducing books that stretch the imagination or develop problem-solving skills.
We also need to provide a supportive environment for women to excel in the STEM work place. We can encourage more female scientists to be role models and participate in mentoring programs.
4) Do you have tips you'd recommend for someone looking to enter your field of work?
My field encompasses many disciplines and the boundaries are expanding as we develop a greater appreciation of how different components (e.g., atmosphere, ocean, land) of the Earth system interact, and how human decisions can influence and are influenced by global environmental change. Both disciplinary and interdisciplinary research have significant roles to play in advancing this field. Build a strong foundation in science, pursue your interests, know your strengths, and you will find a path to a fulfilling career.
5) When you have free time, what are your hobbies?
I enjoy spending time with my family doing simple things at home. Also, I love traveling to interesting places, cooking, sampling international cuisines, and watching movies.