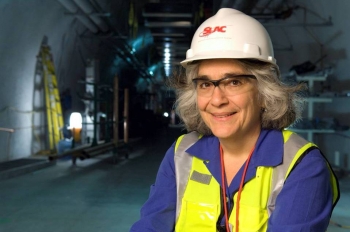 Persis Drell, SLAC. Photo Credit: Linda A. Cicero Stanford News Service
Persis S. Drell is Professor and Director Emerita at SLAC. She received her B.A. in mathematics and physics from Wellesley College in 1977. She received her Ph.D. in atomic physics from the University of California, Berkeley, in 1983. She then switched to high-energy experimental physics and worked as a postdoctoral scientist with Lawrence Berkeley National Laboratory. She joined the faculty of the Physics Department at Cornell University in 1988. In 2000, she became head of the Cornell high-energy group; in 2001, she was named deputy director of Cornell's Laboratory of Nuclear Studies. In 2002, Persis accepted a position as Professor and Director of Research at SLAC. In 2007 she was named Director at SLAC.  Her current research activities are in particle astrophysics and Free Electron Laser science.
Persis has been the recipient of a Guggenheim Fellowship; a National Science Foundation Presidential Young Investigator Award; she is a fellow of the American Physical Society; a member of the American Academy of Arts and Sciences; and a member of the National Academy of Sciences. In spring of 2006 she was the Morris Loeb Lecturer in Physics at Harvard University, and in winter of 2011 Persis was the Occam Lecturer at Merton College, Oxford. In 2012 she was the recipient of the 2012 Helmholtz International Fellow Award for outstanding scientific achievement.
1) What inspired you to work in STEM?
I grew up in a physics household (my father is a theoretical particle physicist) and I liked math starting in middle school.  I went to Wellesley College intending to major in math.  A great woman physics professor, Phyllis Fleming, inspired me to major in physics. 
2) What excites you about your work at the Energy Department?
I can work on big problems and big science.  In a National Lab, one has the resources to make a really big impact on science.  I've enjoyed participating in major efforts that have the ability to change our view of the world we live in, like the Fermi Gamma Ray Space Telescope and the Linac Coherent Light Source. 
3) How can our country engage more women, girls, and other underrepresented groups in STEM?
I think the biggest challenge is having quality math and science education in middle school and high school.  By the time many girls reach college they have already opted out of science and math.  Another big issue for many young woman who might be thinking about a career in research is they need to see that they can have a dynamic career and balance that with a family…it is not an either/or decision.  I have three kids and there were moments in my career when I needed a little extra flexibility to balance everything.  I was lucky to be working at Cornell University at the time and they made it possible for me to both raise a family in a way that I wanted and have a really exciting scientific career.
4) Do you have tips you'd recommend for someone looking to enter your field of work?
Follow your passion.  Do what you are excited by and interested in.  That is when you will do the very best work and be the happiest.
5) When you have free time, what are your hobbies?
My husband and I play a lot of chamber music.  (I play cello and he plays viola).  We also enjoy hiking and I really like reading novels.