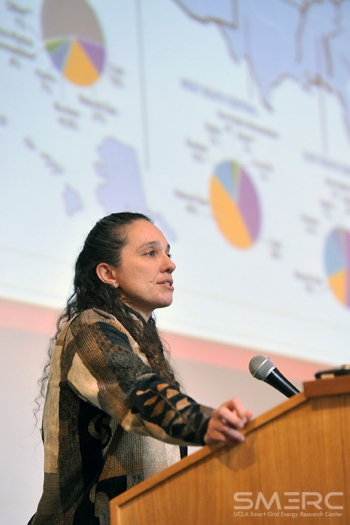 Patricia Hoffman is the Assistant Secretary for the Office of Electricity Delivery and Energy Reliability at the U.S. Department of Energy.
Patricia Hoffman is the Assistant Secretary for the Office of Electricity Delivery and Energy Reliability at the U.S. Department of Energy. The Office of Electricity Delivery and Energy Reliability leads the Department of Energy's (DOE) efforts to modernize the electric grid through the development and implementation of national policy pertaining to electric grid reliability and the management of research, development, and demonstration activities for "next generation" electric grid infrastructure technologies. Hoffman is responsible for developing and implementing a long-term research strategy for modernizing and improving the resiliency of the electric grid. Hoffman directs research on visualization and controls, energy storage and power electronics, high temperature superconductivity and renewable/distributed systems integration. She also oversees the business management of the office including human resources, budget development, financial execution, and performance management. Before joining the Office of Electricity Delivery and Energy Reliability, Hoffman was the Program Director for the Federal Energy Management Program which implements efficiency measures in the federal sector and the Program Manager for the Distributed Energy Program that developed advanced natural gas power generation and combined heat and power systems. She also managed the Advanced Turbine System program resulting in a high-efficiency industrial gas turbine product. Hoffman holds a Bachelor of Science and a Master of Science in Ceramic Science and Engineering from Penn State University.
1) What inspired you to work in STEM?
My aunt who worked at Alcoa inspired me to work in a stem field. She told me about all of the different materials that were going to be introduced in the future and I found that to be exciting and something that interests me. I also like to be hands on and explore ideas and concepts, and working in a STEM field has allowed me to do just that. 
2) What excites you about your work at the Department of Energy?
It is an exciting time for electricity because we are at the forefront of really creating a change.   Given the start of the information age for the electric sector, we are adding new tools and technologies. We are making the next generation electric system which will be modern and full of modeling and analytics. I am very excited about my work and I am seeing college students get excited about going into the electrical engineering field, and we need that.
3) How can our country engage more women, girls, and other underrepresented groups in STEM?
I recently participated in a round-table discussion where I spoke to Master's and PhD students and we discussed how to really engage more students in science, technology, engineering, and math. From our discussion it was clear that we need more outreach. Specifically, we need more mentors, more partnerships with schools and universities, in order to fully engage women and girls.   
4) Do you have tips you'd recommend for someone looking to enter your field of work?
Stay with it and be persistent!  Network and ask questions with the people who are knowledgeable about the STEM field which interests you.  Also, don't be afraid to take risks. Often times, where you start your career may not be in the same area where you end. The good thing about having a STEM background is that it is a solid foundation for you to build your experience upon. 
5) When you have free time, what are your hobbies?
I am a commissioner of two soccer divisions. I am also an active band parent; I enjoy spending my weekends at football games and marching band competitions.