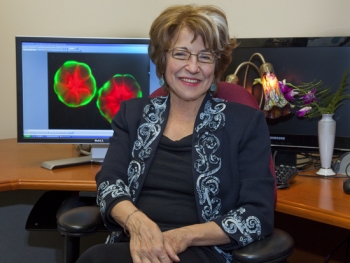 Dr. Mina Bissell has been recognized for her lifetime contributions to the fields of breast cancer research, the enhanced role of extracellular matrix (ECM) and the nucleus environment to gene expression in normal and malignant tissues.
Dr. Mina Bissell has been recognized for her lifetime contributions to the fields of breast cancer research, the enhanced role of extracellular matrix (ECM) and the nucleus environment to gene expression in normal and malignant tissues. These works have ushered and have changed some central paradigms that have strengthened the importance of context in the development of cancer.
1) What inspires you to work in STEM?
I have always been passionate and curious 'to know' why we are who we are. In high school and then college, I enjoyed the STEM courses and then realized how much of what we do that is important for people's lives and well beings comes from the work and labor of those who work in STEM fields. Thus I decided to be a chemist in college, a bacterial geneticist in graduate school, and once I began to work with cancer viruses during my postdoctoral work, I became interested in cancer research.
2) What excites you about your work at the Energy Department/Berkeley Lab?
Very early on during my academic career, Melvin Calvin, a Nobel Laureate and the Director of a Division at Berkeley Lab said to us: "the most fertile ground is where the ocean and the shore meet". I was already passionate about connections between fields of inquiry and had also realized that I looked at biology differently from many of my colleagues because my background was not classical biology. The latter excited me because we knew so little about so many things when I was in graduate school (we still know only a fraction of what we need to know!), but I realized that unless we combined different disciplines and brought from physicists, chemists, bioengineers, bioinformaticists and even mathematicians, we would only make incremental progress. This is why I was happy to join Berkeley Lab, helped establish a well-recognized Life Science's Division and stayed here for my entire scientific career, because this place exemplifies the most fertile ground Melvin Calvin was talking about!
We are now applying this logic not only to breast cancer research and complexity of biological gene expression, but also to low dose radiation research. I am quite excited about this cross-field transfer of ideas and model systems. Low dose radiation offers us an opportunity to intelligently deal with the effects of low dose radiation in health and disease. The data are conflicting and unbiased science and good human model systems of the mammary gland are crucial for understanding whether it is additive and harmful or neutral. If the former, we need to be prepared and in case of the latter, we will have an opportunity to save many many millions of dollars instead of trying to make the environment better than pristine. Either way we need to know.
3) How can our country engage more women, girls, and other underrepresented groups in STEM?
By giving them more inspiring teachers and examples, as well as those who are less prejudiced about girls and STEM careers. Most (of course by all means not all) of our science education in primary and secondary schools are poorly designed and taught by teachers who either are not passionate about STEM fields or are prejudiced about girls and their ability to do worthwhile STEM research. 
4) Do you have tips you would recommend for someone looking to enter your field of work?
Many!  Here are a few:
Most importantly, trust yourself. You can do it if you are passionate.
Do not listen to those who say you cannot have a career in these fields and also have a family and children. Some of our most creative and successful scientists in biology and cancer research are now women-with families and children. 45 years ago, there was only one professor at Harvard Medical School who happened to be a woman. Most all other professors and heads of departments did not believe that women could do medicine or medical sciences. I used to hear that all the time.
Persist!
Read some of the women's life stories or anecdotes on their web sites. There is dignity in work. DO not be dependent on others for your livelihood.
Exercise
You have lots of time: one year here or there does not matter.
You only have one life: do something good with it. Do some GOOD.
Think of an alternative career just in case: Education in STEM areas prepares you for any other career you may want to pursue. Also a plan B takes away a lot of the anxieties young women (and young men) have when thinking about life decisions. Mine was opening a restaurant if I could not get grant money (it was tough for awhile). I was sure if I had to do it, it would have been a good restaurant! 
5) When you have free time, what are your hobbies?
I have no free time, but I make time to see my children and grand children, take hikes (when I was younger I hiked in the Sierras with family and friends). I used to dance- I still like to dance, I read a lot, I like to go to movies, opera ballet and concerts, but I am passionate about theater and go as often as I can.