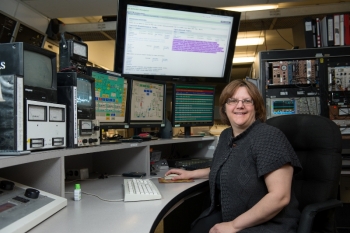 Maria Power is the principal engineer for Accelerator Control Systems at Argonne National Laboratory.
Check out other profiles in the Women @ Energy series and share your favorites on Pinterest. 
Maria Power is the principal engineer for Accelerator Control Systems at Argonne National Laboratory. In this role, she designs, develops, and maintains the computer control system and diagnostic tools and software for the ATLAS accelerator. Maria also travels internationally for conferences and Joint Accelerator Conferences Website team meetings. She has held this position since 2004, and is also an active member of Argonne National Laboratory Women in Science and Technology . Previously, Maria served as a tutor and teaching assistant for computer science fields at the University of Chicago, and worked as a senior software engineer for Siemens Building Technologies. She is the co-holder of a patent.
1) What inspired you to work in STEM?
As a child, I became interested in the newest "video" games (handhelds and Pong) and this interest continued into high school when we began to use computers for Geometry class.  Then I received a Commodore VIC20 for Christmas and I began learning BASIC programming.  This led to the decision to major in computer science in college. With my brother's encouragement, I applied to and was accepted to Illinois Institute of Technology and not only studied my 'craft' but also learned about the many other Engineering fields available.
2)  What excites you about your work at the Energy Department?
All the amazing things that are going on here: from basic scientific research through applied technology. And I love working with so many wonderful people here at the lab.
3) How can our country engage more women, girls, and other underrepresented groups in STEM?
It really begins at the middle school age. Both inside the classroom and out, we need to expose children to all kinds of career possibilities and encourage them to work hard (and ask for help when needed) in their classes. Classrooms need to do less testing so they have more time to educate and inspire. In the inner city, especially,  kids often do not have much exposure to STEM careers and often feel that they cannot achieve these things. Also, we need to foster a culture which includes the importance of education not only to the children but to their parents. Programs such as Introduce a Girl to Engineering and Science Careers in Search of Women held here at Argonne are wonderful ways to introduce STEM careers and we need more programs like these across the country.
4) Do you have tips you'd recommend for someone looking to enter your field of work?
Co-operative education was very useful in verifying the kind of job I wanted. I began a co-op position in my sophomore year of college and ended up working for that company for more than 10 years. The things I learned in the classroom often popped up at work and things I learned at work, often came up in class. Plus it was a great way to earn money to pay for college.
5) When you have free time, what are your hobbies?
I sing in my church choir, enjoy listening to music, playing cards and games with friends (both online and off), playing number puzzles, keeping in touch with friends on social media, and watching the Chicago Bears, Blackhawks, and White Sox.