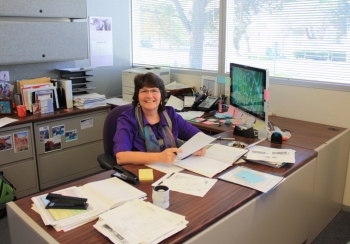 Kris Kulp is the Group Leader for the Pharmacology and Toxicology Group and the Director of the Lawrence Livermore National Laboratory Institutional Postdoc Program.
Check out other profiles in the Women @ Energy series and share your favorites on Pinterest.
Kris Kulp is the Group Leader for the Pharmacology and Toxicology Group and the Director of the Lawrence Livermore National Laboratory (LLNL) Institutional Postdoc Program, leading the lab's efforts to create an exciting and productive environment to train young scientists for successful research careers..  She received her B.A. in Chemistry from Knox College in Galesburg, Illinois and her Ph.D. in Pharmacology and Toxicology from the University of California, Davis. She joined LLNL as a postdoc to do research on the role of dietary carcinogens in the development of human cancer. Taking advantage of the laboratory's wide opportunities for working with scientists of other disciplines, she teamed with a physicist to expand her work to developing imaging mass spectrometry techniques for determining disease effects on single cells and tissues. Currently, she is the biology lead for the LLNL iChip (in vitro Chip-based Human Investigational Platform) project, which is developing a tissue-based assay system that models human physiological response. This platform will be used to accelerate the development of new drug entities and to study mechanisms of infection and disease, systems biology, inter- and intra-cellular communication and effectors of cellular growth and metabolism.
1) What inspired you to work in STEM?
My mom was a nurse; I think this was the foundation for my interest in human biology. Her work provoked a lot of discussion of hard to solve medical problems, which inspired me to want to be a medical doctor. It was only during my final year of college that I realized that really wasn't what I wanted to do. After graduation from college I worked in a variety of analytical chemistry labs until I discovered that wasn't what I wanted to do either. After 5 years and 3 different jobs I decided to go to graduate school to focus on studying biology!  
2) What excites you about your work at the Energy Department?
As a biologist, the best thing about working at an Energy Department Lab is the opportunity to work side by side with so many other kinds of scientists. I have had the pleasure of working with physicists, chemists, engineers and computational scientists and these collaborations have created extraordinary results. I believe that the hardest biology problems can only be solved by the efforts of multi-disciplinary teams that can use a variety of expertise to create new ways to understand how the human body functions.
3) How can our country engage more women, girls, and other underrepresented groups in STEM?
We need to re-assure these important groups that there is an essential place for them in STEM. This starts in elementary school by making sure that we don't propagate myths like "girls can't do math". Later in their education we need to provide mentors and role models, so that they can see what success looks like and see that there are many different paths to achieving that success. My high school guidance counselor once told me "girls from our high school don't get to be doctors".  Fortunately, I was too stubborn to believe him, but we need to make sure that this type of ignorance is gone from our thinking.
4) Do you have tips you'd recommend for someone looking to enter your field of work?
My best advice for aspiring biologists is to not limit your learning to just biology. Take some physics, chemistry, advanced math, or engineering. Although you may not be an expert in those fields, you will gain enough knowledge to have productive conversations with the real experts. Solving the most interesting and challenging biology problems is going to require explaining your needs to other scientists and encouraging them to work on your team.
5) When you have free time, what are your hobbies?
I love to read, do jigsaw puzzles on my iPad, work in my garden, and I walk every day.  My youngest is going to college in the fall, so theoretically I am going to have more free time and will need to expand my interests!