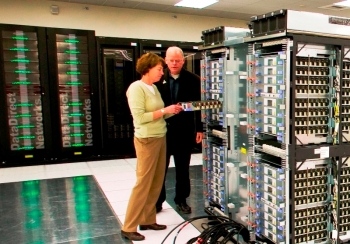 Kimberly Cupps is the Livermore Computing Division Leader at Lawrence Livermore National Laboratories.
Check out other profiles in the Women @ Energy series and share your favorites on Pinterest.
Kimberly Cupps is the Livermore Computing Division Leader at Lawrence Livermore National Laboratories (LLNL). Kimberly leads a staff of high performance computing specialists in delivering computing cycles, system software, services, innovative architectures, and computer science expertise in support of LLNL research scientists and their missions. Kimberly has more than 20 years of R&D experience in management and technical roles at Lawrence Livermore National Laboratory. Kimberly began her career as a software engineer developing telephony software and transitioned to programming supervisory control systems in LLNL's  Atomic Vapor Laser Isotope Separation program.  Kimberly has a BA in Applied Mathematics and a MS in Computer Science.  She serves as a member of the CSU Chico Computer Science Advisory Board and has served on numerous technical review committees for High Performance Computing centers around the nation.
1) What inspired you to work in STEM?
I was inspired to work in STEM by growing up in a family that valued knowledge and education not just in STEM, but in art, history, theatre, and humanities. My parents both worked at the National Labs, my father was a mathematician at Sandia and my mother was a technologist in the Chemistry Department at Livermore. I have always had an innate interest in solving problems and that was cultivated from a young age with chemistry sets, puzzles and interesting dinner table conversations. Math and Computer Science, the two fields I pursued, present challenging problems to be understood and solved. I found computer science somewhat late in my college career, and I was hooked the minute I built a tiny one-pass assembler. Not only can you solve problems with a computer but there is also a sense of building something new, something that wasn't there when you started. I loved the sense of accomplishment I had when I wrote a program that actually did what I programmed it to do.
2) What excites you about your work at the Energy Department?
There are a number of things that excite me about my job. The most important thing about my work is the mission, the reason that the National Labs exist. I am part of Livermore Computing (LC), a high performance computing center responsible for providing computer resources to scientists engaged in many important endeavors, most notably the stockpile stewardship program(SSP). The SSP is responsible for certifying the safety and security of our nuclear weapons stockpile in the absence of underground testing. The computers at LC are used to model various weapons systems physical phenomena as part of the stockpile certification process. The computer is used to help understand what is happening to our aging nuclear stockpile or to validate an engineered upgrade or component replacement. Since we can't physically test the effects of these changes, we must develop high fidelity models and run them on the world's fastest computers to predict their effects on the system. It's important to me that the computers my organization keeps running are helping maintain our country's safety and security.  
I also really enjoy working on the frontier of high performance computing technology. There are very few applications in the world that require the compute power of the world's fastest computers. These serial #1 computers don't come out of the box with the SSP "software" preloaded. The codes have to be adapted to these new machines, the hardware is often buggy, and there are myriad challenges to overcome before the first simulations can run. These technical challenges make my job interesting every day.
The final component of my job that makes it worthwhile and enjoyable is the quality of the people I work with. I am surrounded by motivated, smart people who care deeply about what they do. The Lab's workforce is the gold standard.
3) How can our country engage more women, girls, and other underrepresented groups in STEM?
One way to increase the number of underrepresented groups in STEM is to make sure that these groups are represented at every level in STEM careers. People tend to gravitate toward colleges and majors and jobs that have other people there that resemble them. It is not easy to enter a room at a conference and find that you are the only woman; I know, I've been there! Programs that cater to middle and high school girls and are taught by STEM women are important, but they are not enough. Many girls find themselves losing interest in math during their adolescence. Math is an important part of STEM careers so encouraging our girls that were great in math as fifth graders, to be proud of that, and to continue to take the highest level math and science they can handle throughout high school, even when they may want to take easier subjects, is paramount. Stay with it and the options in college are greatly expanded. Give it up and the options are narrowed considerably. Teachers and parents play a big role in making STEM fields interesting and exciting for young people. Even if parents are not in the field themselves, there are ways to spark interest in these fields through videos, programs like Science on Saturday which is held in the City of Livermore each year, etc. Roles models whether family members or friends can also make a big difference.
4) Do you have tips you'd recommend for someone looking to enter your field of work?
If you think you are interested in being a computer scientist and you have taken many of the required courses and enjoyed them, the next step is to visit several different places that employ computer scientists. Today there are many options for those visits including National Labs, Google, Netflix, Facebook, Twitter and many more.  Each of these places has their own personality and by talking to people who work there one gets a reasonable idea of the environment. Co-ops are a great way to find out more about a company and a job without making a huge commitment. Once you find a place to work, find a person you respect and want to emulate as an informal mentor. These relationships can be career changing. Don't be afraid to change your approach or your job if you find it's not what you thought. Stay focused and flexible and of course, have a good time!
5) When you have free time, what are your hobbies?
 I am a cyclist and ride as much as I can. I am also an avid sports fan. I love watching baseball, football and women's basketball. My spouse and I have a wonderful 17 year old son, and he has been a very big hobby of mine; although he still occupies many of my thoughts, he now requires much less of my time. I also read mysteries and any book Doris Kearns Goodwin writes.