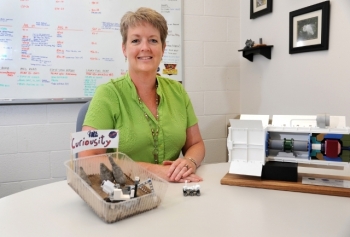 Kelly Lively has worked at Idaho National Laboratory for more than 20 years, and in that time has worn many professional hats, including personnel security, quality assurance inspector, nondestructive testing and project management.
Check out other profiles in the Women @ Energy series and share your favorites on Pinterest.
The successful landing of the Mars rover symbolized a highpoint in Kelly Lively's career. Lively has worked at Idaho National Laboratory (INL) for more than 20 years, and in that time has worn many professional hats, including personnel security, quality assurance inspector, nondestructive testing and project management. Her engineering career did not follow the traditional path; after going back to school mid-career to earn a degree in electrical engineering from Idaho State University, Lively has already had some significant accomplishments under her belt. She has helped make history by participating in two NASA missions; first as an engineer on the radioisotope power system (RPS) for the New Horizons mission to Pluto, and as project manager for the Multi-Mission Radioisotope Thermoelectric Generator (MMRTG). The MMRTG project focused on assembling and testing the system that provides continuous heat and power to operate the Curiosity rover's initial two-year Mars science mission. For this work, the team received the 2012 Nuclear Energy Advocacy Award and the Department of Energy Secretary's Honor Award. Now, Lively has expanded her leadership as the department manager for Radioisotope Power Systems and the project manager for the next Mars mission power system: the Advanced Stirling Radioisotope Generator (ASRG), which could launch in 2019.
1) What inspired you to work in STEM?
Right after I graduated from high school, my parents moved from Illinois to Idaho. I had planned on going to a junior college in Illinois, but because of the move, I decided to work instead of going to college. I had heard that the place to work was INL, so I ended up employed at (the Naval Reactors Facility) for Newport News Shipbuilding as a secretary. After a few months, I was transferred to the engineering department, where I typed all of their operating procedures for the overhaul and refueling for one of the submarine prototypes that the Navy trained on. I became interested in the procedures as I typed them, and thought, "I can do this." That is what sparked my initial engineering interest.
I did a lot of different types of work at INL, quality assurance, nondestructive testing, technical writing, and more. That experience showed me that I really wanted to go back to college and get a Bachelor of Science degree. I went back to school at Idaho State University for electrical engineering while still working at INL during the summers. I graduated in '98 and came back to work at INL as an engineer.
2) What excites you about your work at INL?
I enjoy coming up with a comprehensive schedule, and motivating people to work to that schedule to resolve technical issues. It is like putting together a big puzzle; every day there is a different challenge to overcome, so I am constantly figuring out a way to get things accomplished and create groups of people to get things done. I seem to work most efficiently under pressure.
3) How can our country engage more women, girls and other underrepresented groups in STEM?
Something that I have been very active in over the years is any educational program where we can bring school-age children out, or going to them and giving presentations about what we do. The most challenging thing in that area is to make exciting what we do. Communicating to kids how exciting and rewarding a career can be in science and engineering is the most challenging.
Something that our country can do in our school systems is make STEM-related classes more applied, rather than sitting in a classroom and working problems that are given to them. Making that connection, and (encouraging) learning by applying math and science, would be a way to really engage kids into the STEM fields. When I go talk at schools, I try to make it as hands-on as I can; bringing training-use only modules to use and participate with remote-handling tools.
4) Do you have tips you'd recommend for someone looking to enter your field of work?
Dive in. Don't be afraid to do the work and ask questions. Initially, I was intimidated going into college, having been out for so long; but I encourage others to go back, it is never too late to learn things.
When in the workforce, you have to ask questions and engage. You have to take that risk—to follow the engineering work in the field and be okay with making mistakes. I like to quote one of my mentors, who said, "If you are not making mistakes, you are not learning. And if you are not learning, you are not accomplishing anything."
5) When you have free time, what are your hobbies?
I enjoy spending time with my two children and family. I love fishing (bait-cast fishing) and boating. I adore anything outdoors and any water-related activities.