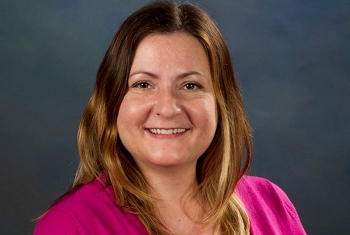 Los Alamos scientist Kathy Prestridge is trying to solve physics' greatest mysteries, including how to harness the power of the sun.
Check out other profiles in the Women @ Energy series and share your favorites on Pinterest. This feature is cross-posted from Los Alamos National Laboratory's Women Who Inspire series.
Turbulence is the most important unsolved problem of classical physics.That is how fellow Princeton grad and renowned Los Alamos physicist Richard Feynman described it, which Kathy Prestridge is dedicated to understanding. Tackle turbulence and its hold on the charged gas called plasma, and practical fusion reactors could become a reality.
Prestridge, who studied aerospace engineering and has a doctorate in applied mechanics, leads a team at Los Alamos National Laboratory that performs high-resolution experiments to study fluid dynamics and better understand mixing transition and turbulence. Applications include weapon design, astrophysics and inertial confinement fusion—the power of the sun.
Prestridge and colleagues took first-time measurements of shock-driven turbulent mixing, providing physical insights that support more accurate modeling. Understanding turbulence and being able to accurately simulate ICF implosions could substantially impact the nation's future energy independence. A busy mother, Prestridge also leads seminars for women that help them develop skills and tactics to achieve their goals in challenging professional environments.
1) What inspired you to work in STEM?
I majored in aerospace engineering at Princeton. It was the first time that science classes were actually hard for me because the pace of the material was very fast. It took me a while to figure out that I had to talk to other students and get help solving some of the problems. The sheer volume of work was initially overwhelming. 

My undergraduate and grad school professors at Princeton and UCSD were instrumental in nudging me into my current career doing experimental fluids research.
2) What excites you about your work at the Energy Department?
I am proud of all of my technical work, but I think the 'project' I am most happy about is the team that I have built over the past few years. My team, called the Extreme Fluids Team, is a great group of people, we all work well together, and that working dynamic is so positive that it is very easy for me to recruit people to come here and stay at Los Alamos. I am committed to making sure that everyone on the team is able to succeed to the best of their abilities, according to their strengths.
I am doing research related to the problem of inertial confinement fusion, and that can have a substantial impact on our nation's energy dependence in the future.
3) How can our country engage more women, girls, and other underrepresented groups in STEM?
This is a difficult problem, and one that I am very closely involved in with the American Physical Society's Committee on the Status of Women in Physics. Right now, the biggest loss of women in STEM is between high school and college. The APS has several programs aimed at retaining women in STEM fields, but I think that the DOE could actually have a huge impact in this area. The military has ROTC programs, and the nation could develop something similar for the national laboratories. These programs could target underrepresented groups in STEM and increase their representation at our national labs.
4) Do you have tips you'd recommend for someone looking to enter your field of work?
I would tell a young person that it is important to do something that is interesting, but that your career doesn't have to be singular thing that defines you as a person.
The town of Los Alamos can be a very intimidating environment for someone interested in science. I have told many young people that the STEM fields need people who have different perspectives, are good at doing the science, are able to communicate their ideas well, and who are generally well spoken. Don't fall into believing the mad scientist stereotypes.
5) When you have free time, what are your hobbies?
My husband, also a scientist, and I have two kids (7th and 5th grades), and that involves a lot of extracurricular activities, appointments, and other things that keep us continuously busy. I would not be able to have the career that I have now if I did not have a super supportive spouse. We try as best we can to split our home responsibilities equally while we are balancing travel for work and our other commitments. It is a continuous challenge.