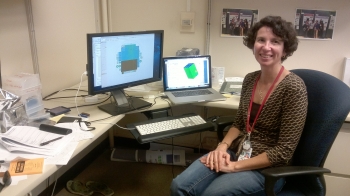 Dr. Julie Segal began work at SLAC in 2011 to research and develop radiation detectors for the LCLS and other science research applications.
Check out other profiles in the Women @ Energy series and share your favorites on Pinterest. 
Dr. Julie Segal is a Detector Engineer at SLAC. She began work at SLAC in 2011 to research and develop radiation detectors for the LCLS and other science research applications. Julie received her Bachelors in Physics at UC Berkley as an electrical engineer in the semiconductor industry, working at Xicor, Inc  (1984-1988) and Cypress Semiconductor (1988-1992) in reliability engineering and technology development. After going back to school for her Masters and Ph.D. at Stanforx in Electrical Engineering, Julie returned to the semiconductor industry, working on design for manufacturability  at HPL, Inc (1997-2002), Spansion (2003-2009) and GlobalFoundries (2010-2011) working on design for manufacturability before resuming radiation detector development when she started working at SLAC.
1) What inspired you to work in STEM?   
When I was a kid I was interested in animals, I wanted to be like Jane Goodall in all those National Geographic tv specials studying animals in Africa. (This was the early 70's.) Not only was her job interesting, but it was also an extended camping trip!  It only occurred to me much later that her being a female role model might have had something to do with it. I never thought I had any special aptitude for math until I was in junior high and got a letter inviting me to take a test for entrance to an accelerated math program sponsored by Johns Hopkins University. They selected kids for this after-school class in Montgomery County, Maryland based on standardized test scores. I made it into the program (barely?) and that led to taking calculus in 11th grade, which led to taking more math and physics. 
When I started college I didn't know what I was going to major in, but whenever I said I was thinking of majoring in physics people seemed really surprised or thought I was crazy so I decided to major in physics.
2)  What excites you about your work at the Energy Department?
It is really fun to work in an environment where people are excited about what they are doing. Having worked in industry for many years where my job tended to be very focused on a specific technology and/or task, I like being in a research environment where your job is more varied. And you get exposed to all sorts of scientific topics; researchers from all over give talks at SLAC.
3)  How can our country engage more women, girls, and other underrepresented groups in STEM?
I really don't know why there are still so few women in STEM fields. Back in the 70's when I was in high school we assumed it would be much more equal by now, the way it is in medicine or law. I definitely think girls are much harder on themselves in school, if a girl is not near the top of her class in a technical field she tends to think she should drop out. Once you make it into a real job and can see how you contribute that's less of an issue.  In real work, unlike in an exam, you figure things out in part by doing research and asking lots of questions, it's not as intimidating as staring at a blank piece of paper with 40 minutes to solve the problem. Maybe if STEM classes had more projects, and girls understood STEM work is more like a project than an exam it would be helpful. Nowadays young women I talk to are really worried about career-family balance, unlike when I was in my early twenties and we just assumed (naively) it would work out somehow!
4) Do you have any tips you'd recommend for someone looking to enter your field of work?
Study physics or engineering in school, then probably you need a graduate degree now, you can't get an engineering job with a BA in physics anymore!   To do research at a lab like SLAC, the best route is to do graduate research in an area the lab is involved with. That's what I did, though I didn't realize it at the time.
5) When you have free time, what are your hobbies?
With a full time job and kids, who has time for hobbies? Though now my kids are about grown (18 and 14) so I should probably get some! Well, OK: reading, hiking, cycling.