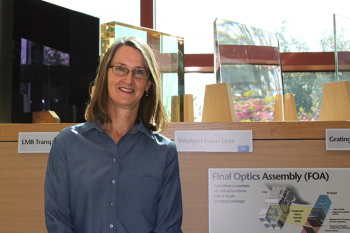 Jessie Gaylord is a lead software engineer for the National Ignition Facility at Lawrence Livermore National Laboratory.
Check out other profiles in the Women @ Energy series and share your favorites on Pinterest.
Jessie Gaylord is a lead software engineer for the National Ignition Facility at Lawrence Livermore National Laboratory.  She designs and develops the inventory analysis and production metrics system used by hundreds of engineers and scientists at NIF to manage optics processing, target fabrication, and operations work in the NIF facility.  Jessie also leads a development team for database reporting tools and real time business intelligence systems.
Prior to LLNL Jessie held several corporate business positions, including product manager, cost analyst, market analyst, and corporate buyer.  Jessie graduated cum laude with a BA in economics and a minor in mathematics from Washington University in St. Louis, and earned an MS in Computer Science with distinction from California State University Chico while working full time.  In college she was elected to the international economics honor society and the international computer science honor society.
1) What inspired you to work in STEM?
Out of college my dream was to work in business, but I had strong math and computer skills and often focused on data and analysis in my jobs.  I saw opportunities for these skills everywhere I went, and over time I found I was spending more time creating data systems and reporting tools than doing the work I was originally hired to do.  Eventually I went back to college for an MS in Computer Science, and now enjoy work based in STEM. 
2) What excites you about your work at the Energy Department?
My first job with the Energy Department was intended to be a three week temporary assignment during the construction of the National Ignition Facility at LLNL.  I quickly became extremely excited by the project, the work, and the people.  Each day I had a hands-on opportunity to work with an exceptional and driven team on a project with national significance.  That was thirteen years ago, and I am still excited by it.
3) How can our country engage more women, girls, and other underrepresented groups in STEM?
Engaging and diverse role models would make STEM look less dry and intimidating to newcomers.  Access to committed and diverse mentors in schools and jobs would give more people the inspiration to try STEM, the encouragement to stick with it, and the support to succeed.  Exposure to accomplished people is very motivating, particularly when they have a background like your own.
4) Do you have tips you'd recommend for someone looking to enter your field of work?
Be curious and try new things, and when you find something you are good at go for it.  Make sure to lay a solid foundation for what you want to do in school.  Find people in the field to help you get started, to get support from when you need it, and to make friends with so you have fun while you work. 
5) When you have free time, what are your hobbies?
I love to travel, camp, hike, and kayak with my family.  I also enjoy cooking, renovating my 1890's house, and playing in a bluegrass band at local wineries.