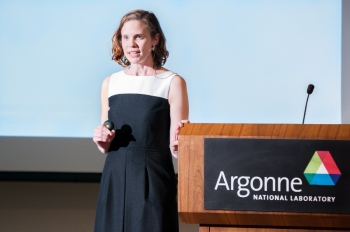 Chemical engineer Jennifer B. Dunn is an active supporter of women interested in entering STEM fields. An avid nature lover and environmentalist, she leads the Biofuel Life Cycle Analysis Team at Argonne National Laboratory.
Check out other profiles in the Women @ Energy series and share your favorites on Pinterest.
Jennifer Dunn, a chemical engineer, leads the Biofuel Life Cycle Analysis Team at Argonne National Laboratory, which examines the life cycle impacts of automotive lithium-ion batteries. In her work, Jennifer studies the cradle-to-grave energy and environmental implications of the production and use of transportation fuels and technologies. Much of her work is incorporated into Argonne's Greenhouse Gases, Regulated Emissions, and Energy Use in Transportation (GREETTM) software model, which has more than 20,000 users worldwide. 
Before joining Argonne in 2010, Jennifer spent two years at the U.S. Environmental Protection Agency at the interface of science and policy in the Air and Radiation Division. She then worked at URS Corporation as an environmental consultant in air quality and sustainability, including life cycle analysis. While at URS, Jennifer spent a year at the company's Brussels office gaining a European perspective on environmental management and sustainability.
Dunn has a bachelor's degree in chemical engineering from Purdue University. She holds a master's degree in sustainable chemical engineering systems and a PhD in chemical engineering, both from the University of Michigan.
1) What inspired you to work in STEM?
Trips to national parks with my family as I grew up highlighted the importance of good air and water quality. These memorable trips became my inspiration to pursue a career in the STEM field, as a route to protecting the environment. As a student, I gravitated toward the fields of green chemistry and life cycle assessment (LCA).
2) What excites you about your work at the Energy Department?
I am passionate about the work I do at Argonne, where our group uses LCA to examine big-picture questions about the energy and environmental impacts of transportation technologies. For example, we ask whether electric vehicles really reduce greenhouse gas (GHG) emissions as compared to conventional vehicles. After all, a power plant is emitting GHGs to produce the electricity that charges the vehicle batteries.
Questions like this are at the heart of societal decisions about energy choices. I am thrilled to probe these issues and communicate with the public and policy makers about energy options and their implications.
3) How can our country engage more women, girls, and other underrepresented groups in STEM?
To attract more STEM-capable young women to STEM careers, they need to understand that these careers are not isolating or mechanical. My work requires a technical background and also relies heavily on communication and collaboration skills, which many women have in spades and enjoy using. My advice to young women interested in a STEM career: stay well-rounded!
4) Do you have tips you'd recommend for someone looking to enter your field of work?
Besides pursuing internships in industry or at universities, non-profits, and government labs to get a sense of your technical interests, you can write, take advantage of public speaking opportunities, and get involved in your community. It's also smart to meet and network with STEM professionals.
Additionally. if you're a young woman, you need to know that it's possible to combine a STEM career with personal goals like having a family.
5)  When you have free time, what are your hobbies?
I spend my free time with my two charming young sons and my husband. We get out into nature as much as we can.