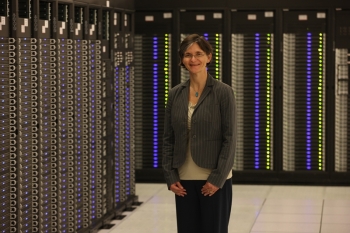 Evi Dube is a computational scientist who has worked at Lawrence Livermore National Laboratory for almost 30 years.
Check out other profiles in the Women @ Energy series and share your favorites on Pinterest.
Evi Dube is a computational scientist who has worked at Lawrence Livermore National Laboratory for almost 30 years. She has many years' experience in Scientific Simulation, specifically pertaining to High Performance Computing. She was fortunate to be able to work while getting her Ph.D. and completing her Project Management Certificate, both which have served her well in her career. These days, she has the pleasure of juggling several diverse projects in two key roles, as a project manager and as a technical leader. Project management activities include co-leading Network Science Projects totaling ~$5.7M and numerous projects within the energy field to ensure timely completion of these activities. Evi has investigated several programming models (UPC, CUDA, and Chapel) and spearheaded a Programming Model Survey to explore how effectively they could be used in LLNL's future exascale environment, creating a knowledge database.
1) What inspired you to work in STEM?
I was fortunate that my parents always supported and pushed me to do well in science and math (even back in the 60s and 70s and through my college years) so I had support at home even if my teachers did not think a girl could go well in school. When I realized that I wanted to mix computers and math and science, I wrote the University of Arizona a letter asking what I could study (I was a senior in high school), and a professor actually wrote me back to tell me about a degree (Engineering Mathematics) that would work well for my interests, and I actually pursued that program, and did well. When I was struggling in the Ph.D program that was offered between UC Davis and the National Laboratory – the two parties determined that they needed another program that spanned two disciplines of computation and science, and created this new program, and I was one of the first to enter this new program, and I was able to pioneer this new Ph.D program while working full time at a national lab.
2)  What excites you about your work at the Energy Department?
Well, the ability to combine research and practical application of science, the ability to move into several different areas of science, from nuclear energy to bio energy to wind energy to network science and remain within the same company.
3) How can our country engage more women, girls, and other underrepresented groups in STEM?
I think the key is to have these groups realize the job a combination of experiment, team work, individual contributions, computations, travel, growth. I know my daughter worries that she will be "stuck in meetings and sitting all day" which is a huge turn off for her. Understanding that the job is a mix of social and individual time, with the growth aspect and challenges I think will be a draw.
4) Do you have tips you'd recommend for someone looking to enter your field of work?
Understanding how your piece fits into the bigger picture.
5) When you have free time, what are your hobbies?
Reading and hiking.