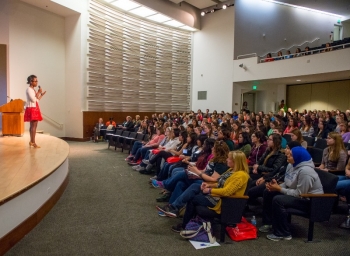 Argonne's first Gender Diversity Specialist, Erin L. Thomas, works to ensure that the unique experiences of minority women do not go overlooked in diversity and inclusion initiatives.
 Erin L. Thomas is Argonne National Laboratory's first Gender Diversity Specialist. In her role, she develops institutional approaches that enhance gender diversity, inclusion, and equity in STEM careers. Before coming to Argonne, Dr. Thomas consulted for Catalyst, Inc., a leading nonprofit organization dedicated to advancing women at work. Dr. Thomas' research program informs her current role at Argonne, as its overarching objectives are to (1) ensure that the unique experiences of minority women do not go overlooked in diversity and inclusion initiatives and (2) develop interventions that disrupt gender-based assumptions and expectations. Her primary line of research examines the intersections of gender and race and the implications of multiple minority statuses in workplace, economic, and social policy contexts. Dr. Thomas' research has received recognition and funding from numerous organizations, such as the National Science Foundation, the Robert Wood Johnson Foundation, the American Psychological Association, and the Society for the Psychological Study of Social Issues. Dr. Thomas has more than 7 years of educational administrative and 10 years of K-12 and undergraduate teaching experience. She has worked as a Dialogue Group Facilitator for the Yale College Dean's Office, as a program analyst for the Yale Science Collaborative Hands-On Learning and Research program, and in diversity program development for Women and Youth Supporting Each Other, a national non-profit aimed at mentoring inner-city girls. She received BAs in Psychology and International Studies and an MS, MPhil, and PhD in Social Psychology, all from Yale University.
1) What inspired you to work in STEM?
I was always an excellent student—top of my class—but I also got in trouble a lot for asking "Why?" all of the time. My parents and many teachers thought I was challenging authority, but actually I was genuinely intrigued by why people do what they do or behave in certain ways—what motivates them, what drives them, and how environments affect all of that. Social psychology is a STEM field that rigorously investigates all of these questions. My profession chose me because of the way I naturally navigate the world.
2) What excites you about your work at the Energy Department?
It's an amazing opportunity to address disparities in STEM from within a department that is at the forefront of creating national-level opportunities to diversify STEM fields. In my role, I have the ability to influence how our national government corrects for historical injustices that currently prevent us from taking full advantage of the complete spectrum of diverse talent within the current and next generations of STEM professionals.
3) How can our country engage more women, girls, and other underrepresented groups in STEM?
We need to provide exposure, tools, resources, and opportunities for women, girls, and underrepresented groups in STEM. Most importantly, however, we need to work closely with non-minorities and institutions to expand their notions of who a STEM professional is, what he or she looks like, and where he or she comes from geographically and educationally. What I find most often in my work is not race or gender bias but rather familiarity bias—many STEM professionals and institutions have been in their fields or in business for a long time, haven't thought about reaching out broadly to source and develop talent, and simply aren't aware of all of the opportunities they're missing out on by perpetuating standard practices and thinking nearsightedly (and archaically) about the ideal STEM professional. At the end of the day, the world is growing increasingly interconnected and, thus, increasingly diverse. While girls, women, and underrepresented groups need to be proactively recruited and welcomed into STEM fields, the real work needs to be done with the majority of STEM professionals, who are not underrepresented, or else they will lose out on the marked innovation that diversity brings to the STEM enterprise.
4) Do you have tips you'd recommend for someone looking to enter your field of work?
Email me at
ethomas@anl.gov
! I'm happy to help get you started with resources in your area. If you're too shy to do that, you shouldn't be, but I understand. In that case, I recommend that you use the power of the Internet to get acquainted with social psychology. Check out TED talks and Google Scholar articles by eminent researchers about topics that interest you.
5) When you have free time, what are your hobbies?
Everyone has the ability to make free time, and I try to do so often by managing my time wisely. I am a former athlete, so I am hugely into physical fitness 6 days a week. I'm also an expert shopper and enjoy collecting vintage pieces from famous designers.