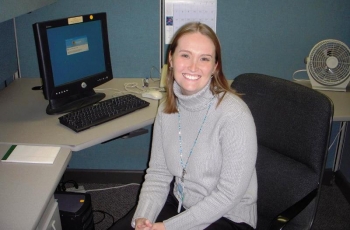 Elizabeth Sendich is an industrial sector expert with the US Department of Energy's Energy Information Administration (U.S. EIA), the statistical and analytical arm of the DOE.
Check out other profiles in the Women @ Energy series and share your favorites on Pinterest.
Elizabeth Sendich is an industrial sector expert with the US Department of Energy's Energy Information Administration (U.S. EIA), the statistical and analytical arm of the DOE. In this agency's Office of Energy Markets and Financial Analysis Macroeconomic Team she helps maintain the National Energy Modeling System's industrial forecasts and enhances public understanding of important issues related to industrial sector operators, such as bulk chemical and paper producers. Before beginning work with EIA, Elizabeth studied chemical engineering at Michigan State University, finishing her BS in 2004 and her PhD in 2008.  Her dissertation covered the development and results of her model to simulate biorefineries integrated with realistic agricultural landscapes as providers of feedstocks and other goods, simultaneously.
1) What inspired you to work in STEM?
As a kid I always like math and science, from collecting rocks and archeology to the beautiful symmetry of the natural world seen in crystal structures. I think what cemented it, though, was attending a special summer camp for young girls interested in math and science in middle school. It was hosted at a college and they treated us like young-adults, giving us some freedoms but also structure, mirrored after collegiate life, rather than treating us like children.
2) What excites you about your work at the Energy Department?
Being able to inform the public and our nation's leaders with sound analysis that relies on math and science. As a source of both data and analysis, EIA is known for its ability to think questions through and provide thoughtful insight into our nation's energy issues. It is done in such an unbiased way that often the same analysis is hailed by both sides of the political aisle.
3) How can our country engage more women, girls, and other underrepresented groups in STEM?
Start early and start simple. We don't have to tell every high-schooler to be an astrophysicist (or a chemical engineer), we want the general idea of maths, science, technology, and engineering to be fun at a time when young girls are still interested in play and learning is fun, not just text books.
4) Do you have tips you'd recommend for someone looking to enter your field of work?
Find your passion. Chemical engineering is a hard discipline, so the best way to succeed is to have a passion for the material, to know why it matters. I knew when I entered my Bachelor's program that I could use chemical engineering to study life-saving drugs, better and safer car materials, or even how to solve the energy crisis. As I refined my knowledge, skills, and abilities, I discovered where my true passion lay, energy. I channeled that into graduate research that combined energy and chemicals with biology and agriculture to study the potential for the US to develop sustainable bio-based chemicals and fuels.
5) When you have free time, what are your hobbies?
I spend as much of my free time with my family, they are the world to me. I've always been close with my parents and when my husband entered the picture we found ourselves a matched-set. Two years ago I brought my daughter into the world, and she has only expanded our love (of course, she's also reduced that free time quite a bit). When we're together, we all find great joy in creating new memories through travel. I've been practically around the world, and though my daughter has yet to leave the US, she has seen some it's furthest reaches in Hawaii! When we're not out and about, we all enjoying reading books and taking nature hikes as a family.