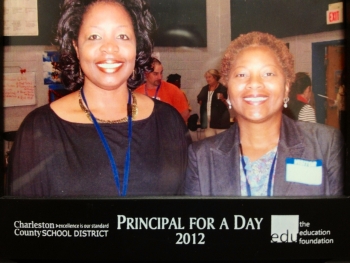 On left, Dr. Yvonne Commodore, Principal of Lincoln Middle-High School in McClellanville, South Carolina, stands with Cynthia Anderson as part of the annual Principal for Day event with the South Carolina Education Foundation.
Check out other profiles in the Women @ Energy series and share your favorites on Pinterest.
Cynthia V. Anderson is a distinguished member of the Senior Executive Service with over 20 years of experience in nuclear energy, environmental restoration and business management. Ms Anderson works for the National Nuclear Security Administration and is serving as a Visiting Scholar to the Charleston County School District in South Carolina.  She is collaborating with the school district, Historically Black Colleges and Universities, and Minority Serving Institutions to accelerate student achievement by incorporating more science, technology, engineering and mathematics course into the curriculum
Cynthia was the Chief Operating Officer and the Director of the Environmental Management Recovery Act Program for the U.S. Department of Energy's Office of Environmental Management.  She oversaw a $6 billion initiative to accelerate environmental restoration, facility decommissioning and demolition, and radioactive waste disposal while saving and creating thousands of jobs under the American Recovery and Reinvestment Act of 2009. Ms. Anderson's career with the Department of Energy began at the Savannah River Site where she served as head of the Nuclear Safety Branch and then as head of the Radiation Protection Branch. Ms. Anderson holds a Bachelor of Science Degree in Chemistry and Computer Science and a Masters Degree in Business Administration.
1) What inspired you to go into STEM?
I enjoyed reading and watching science fiction as a child, a passion that continued throughout my life. STEM interests also ran in my family – my brothers were in technical fields and my mother was a nurse. In high school, my teacher,Mary Ravenell,  took my class to science fairs and other functions that exposed me and my classmates to STEM fields. I liked chemistry and math, and I excelled in those areas and pursued a career in those fields. I thought working as a chemist in a lab would be a great job, and I served in that capacity for several years after graduating from college. Following that position, I became a health physicist in the Navy Nuclear Propulsion Program.
I've always liked reading and watching science fiction, beginning at a very early age. STEM interest ran in my family – my brothers were in the technical fields, my mother was a nurse. I liked chemistry, calculus and math in high school, so I took them and excelled and perused a career along those lines. My teachers would take us to different functions like science fairs and she got me my exposure to the field.
2) What excites you about your work at the Energy Department?
I enjoy my job because I see progress. I am accomplishing a vital mission that is key to our country's national security, economic growth and global competitiveness. When I oversaw nearly $6 billion in Recovery Act spending for the Office of Environmental Management (EM), I set goals and could see them being met to reduce EM's footprint across the complex. Currently, I am participating in an intergovernmental personnel assignment with the Charleston County School District to enhance STEM programs in the curriculum. This project allows me to serve as a STEM ambassador for the Department of Energy. I am able to introduce area schools to the national labs and expose students to STEM careers. As part of my efforts on behalf of the Department of Energy, I also travel to the labs and meet with industry to spearhead STEM enterprises, including the development of a cybersecurity center of excellence in South Carolina. I love being able to build new initiatives like this and improve the lives of others through these programs.
3) How can our country engage more women, girls, and underserved communities in STEM?
The key to engaging more women, girls and underserved communities in STEM is exposure. Even at the Department of Energy, there aren't many African Americans and women in scientific positions. The Department should promote its highly-trained and outstanding women and African Americans in technical areas as STEM ambassadors to students at every grade level. Such an initiative could be done through partnerships with organizations like the Council on Women and Girls and National Society of Black Professional Engineers. We can also bring students to our national labs and have our world-class experts visit class rooms, from kindergarten to grad school, across the country to kick start a national dialogue about the value of STEM education and careers for our nation's future. Instead of importing engineers and scientists, we need to start growing them at home.
4) What tips do you have for someone who is hoping to go into your field?
When I speak to students, I tell them that they really do need to pay attention to math and science in school. We have a STEM literacy problem in this country, and science, technology, engineering and math need to be better incorporated into classes. Doing so exposes kids to STEM at an early age in courses like history, English, and social studies because all of these elements are connected. I tell students that they need to hunker down and learn math and science so that they can take advantage of more opportunities in the future.
5) In your free time, what are your hobbies?
I love to mentor students. I regularly speak to K-12 and college classes and use my experience to promote STEM activities. I also love to read and watch television – especially science fiction. But my real passion is mentoring.