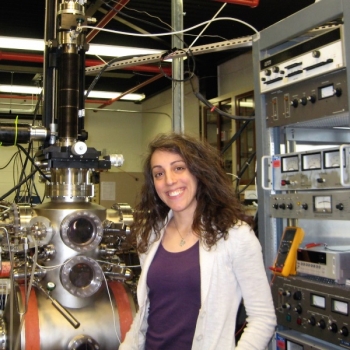 Dr. Angie Capece is an associate research physicist at the Princeton Plasma Physics Laboratory where she works in the field of plasma-surface interactions.
Check out other profiles in the Women @ Energy series and share your favorites on Pinterest.
Dr. Angie Capece is an associate research physicist at the Princeton Plasma Physics Laboratory (PPPL) where she works in the field of plasma-surface interactions. Her current work involves understanding the surface processes that occur at the plasma-surface interface in fusion devices using atomic-level diagnostics such as electron spectroscopy and scanning probe microscopy. Prior to joining PPPL, Dr. Capece conducted research on plasma-surface interactions in tungsten cathodes for electric thrusters at the Jet Propulsion Laboratory in Pasadena, California. She earned her Ph.D in Aeronautics and MS in Aerospace Engineering from the California Institute of Technology, and she earned her BS in Mechanical Engineering from Lehigh University. 
1) What inspired you to work in STEM?
While I was still in middle school, most of my older female cousins were pursuing careers in STEM, so studying math and science seemed like the cool thing to do. I was also in an aviation club in high school, which greatly influenced my decision to study engineering in college. In addition to this, I had great math and physics teachers in high school, who provided me with the support, confidence, and inspiration to pursue a career in science. 
2) What excites you about your work at the Energy Department?
I love working in fusion. It's an exciting technology, and I think there is tremendous potential for the future of plasma-surface interactions. 
3) How can our country engage more women, girls, and other underrepresented groups in STEM?
In order to engage more women in STEM, young girls need older female role models that they can identify with. We also need to change the current stereotype of what a scientist is. We're not one-dimensional beings totally engrossed in our science with no other interests. Most scientists I know are pretty cool. They're beautiful, personable, and well-rounded people. Some of them are also professional musicians, dancers, competitive runners, triathletes, mountain climbers, and artists---to name a few. Being a scientist is a fun and exciting career---we get to let our curiosity run free and work on finding solutions to the world's most challenging problems. And even though we're busy pushing forward the boundaries of our knowledge, we still have plenty of time to have fun. 
4) Do you have tips you'd recommend for someone looking to enter your field of work?
Be true to yourself and pursue the things that excite and motivate you. Success comes easier to those that are doing the things they truly enjoy. Work hard in school, and take advantage of opportunities to try different things. Join a math or science club, apply for an internship to work under a scientist or engineer in a laboratory, don't be afraid to pick up an advanced textbook and try to teach yourself something new, have a teacher or older sibling help you build your own experiment. Science is about learning and exploring! The challenge is to find something you both love and are good at.
Never underestimate your abilities, and don't let anyone convince you that you can't do something. Take control of your life and remember that character counts for a lot. Strive to be independent, persistent, reasonable, and introspective. These qualities go a long way. Resist the temptation to compare yourself with others. Many different people with many different talents and aptitudes enter STEM fields. It's this diversity of talent and ideas that drives innovation in science and technology. 
5) When you have free time, what are your hobbies?
I love being outside, and I enjoy trail running, rock climbing, kayaking, and hiking. I spend a lot of my free time reading, planning outdoor adventures with my friends, and relaxing on my farm.