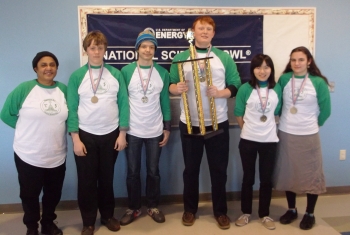 As part of the National Science Bowl, more than 9,500 high school students take place in 70 high school regional competitions around the United States and Puerto Rico.  The winners of these regions advance to the National Science Bowl competition held every April in Chevy Chase, Maryland.
On Saturday, February 9, the Office of Economic Impact and Diversity hosted the Washington, D.C. High School Regional Science Bowl competition at Cesar Chavez Public Charter School (Parkside Campus) in Northeast, Washington, DC.  The competition included seven schools (including public, charter and private schools) in jeopardy-style question and answer sessions. 
Woodrow Wilson Senior High School won the competition, taking an early lead and maintaining that lead through seven rounds of intense questions and answers.  The Wilson team took home the coveted first place prize — bragging rights and the opportunity to represent the District of Columbia at the National Science Bowl competition scheduled for April 25-29, 2013, at the 4H Club in Chevy Chase, Maryland. The 2nd place prize went to National Cathedral School, and Columbia Heights Educational Campus took 3rd place.
Congratulations to Wilson High School on their seventh consecutive win, and special thanks to all the students, teachers, and volunteers who participated in the event.