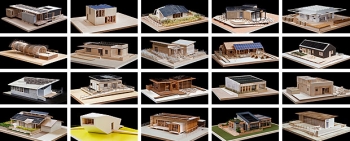 Models of the homes that this year's competitors have designed, built, and will operate at the Solar Decathlon.
It's an honor and a privilege to be selected for grueling hours of hard work, including planning, modeling,  energy research, and construction - at least, it is when it comes to the Department of Energy's annual Solar Decathlon challenge. Only 20 university-led student teams are invited each year to create an all-solar-powered house from scratch, designing and building a house that will be reassembled amidst the memorials in Washington D.C. from September 23 - October 2nd. 
This year, the Office of Economic Impact and Diversity is proud to help the Minority Serving Institutions that were selected for this challenge. Florida International University, which boasts of a student body that's 61% Hispanic, and Hampton University, a Historically Black College and University, have both received financial assistance from our office to cover the student's entire lodging costs associated with participating in the Solar Decathlon. 
Florida International University and Hampton University's teams are expected to construct a solar-powered house that meets architecture standards, market appeal, engineering soundness, comfort, and energy balance, all while running hot water for dishes and cooking, a TV and other home electronics, and loads of laundry. Oh - and they are encouraged to build this home for under $250,000. 
These schools are inspirational when it comes to their plans for the competition. Florida International University has created the perFORM[D]ance House, which "responds to its environment, its inhabitants, and its use." It's innovative features include a weather station with monitoring capabilities that allows homeowners to monitor energy production and use, solar panel performance, and water consumption. After the competition, the house will be recreated on their Modesto A. Maidique Campus, and serve as a model of sustainability. 
Hampton University is on Team Tidewater Virginia with Old Dominion University, and they're calling their home Unit 6 Unplugged. Their housing plan for the competition is unique - Unit 6 is conceived of as part of a larger, six-unit multifamily building. By sharing infrastructure costs between units of the building, this energy-efficient house is made more affordable. Highly efficient photovoltaic modules will convert more than 18% of sunlight into electrical energy at this home.  When the competition is over, the house will go back to Norfolk, Virginia, to be used by both schools' engineering and architecture programs.
If you're in the D.C. area, check out these homes on your visit. You can find competition information, including hours, directions and FAQs at http://www.solardecathlon.gov