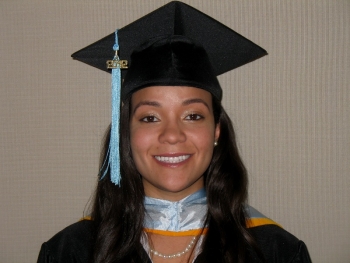 Domnique Newallo is a 2012 recipient of the Spelman STEM scholarship funded by the Department of Energy.
If there is a woman who knows how to turn adversity into achievement, its Domnique Newallo. Domnique is a 2012 recipient of the Spelman STEM scholarship funded by the Department of Energy, which aided in the completion of her college education. Born in Madison, Wisconsin, Domnique was a world traveler and science lover at an earlier age.  As a young girl, she lived in Trinidad --her Father's native country-- Texas, and Michigan, which she considers her main home.
Domnique's affection for science started at an early age – from the first science kit her mother bought her that inspired Domnique to get involved in experiments and, "blowing stuff up" as she put it. During Domnique's youth, trouble was not easy to run from as Doninique found herself in and out of juvenile centers and mental institutions as an adolescent. Soon, at the age of 15, Domnique was pregnant with her first son. Although she was faced with such disheartening troubles at this time, she managed to turn her life around by obtaining her GED and enlisting in the U.S. Army at the age of 20.
Domnique enjoyed her time in the Army, and with the tools she learned during her service, she began her career as CT scan technologist. For 12 years, she worked to provide for her family, when one day she decided that she no longer wanted to continue her work in management and decided to take her love for science and apply it to become a doctor.
After spending her freshman year at Benedict College, Domnique took a different path and enrolled in Spelman College in Atlanta, Georgia. For four years, Domnique studied, mentored, worked a full time job, and did research, all while taking care of her two sons, one of which was born with cerebral palsy. While approaching her second senior year of college, she maxed out all of her student loans and was no longer able cosign on them. With no other resources to look to, and in need of financial aid, Domnique reached out and found one last resort. One of her professors recommended a scholarship worth $5,000 provided by U.S. Department of Energy. She took her chances to apply and got it.
The Spelman STEM Scholarships are funded by the Department of Energy and The Boeing Company. Through this scholarship, academically talented and economically disadvantaged students pursuing a degree in the Science, Technology, Engineering, and Mathematics fields are able to find financial assistance in order to fund their education.
According to Domnique, the Spelman STEM Scholarship was the best thing that could have come to her. She says, "I wouldn't have been able to do it without the Department of Energy. I believe there are no excuses in life that you can't accomplish something if you work hard for it." Domnique completed her matriculation from Spelman in 2012, graduating Magna Cum Laude with a bachelor's degree in Chemistry. Her dream is to continue on to medical school and become a Radiologist with a concentration in research. She also hopes to one day give back by working in a government facility such as DOE.