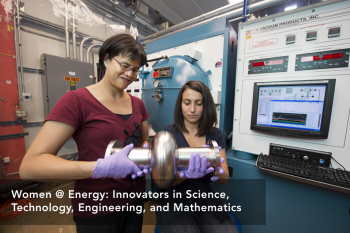 In honor of Women's History Month, the Office of Economic Impact and Diversity started Women @ Energy, an online feature of women who work in science, technology, engineering, and mathematics (STEM) at the Energy Department. Sharing profiles and stories of incredible women in STEM, showcases the mission-critical work they are actively engaged in throughout the Department, and offers role models for women and girls who are critically underrepresented in these fields. Currently, there are 175 profiles in this series.
We are re-opening the call for nominations of outstanding women at the Department to share their story of their STEM career and offer advice and inspiration for others to explore a future in STEM. In addition to publishing new features in Women @ Energy (www.energy.gov/womeninstem), our office will be creating a printed book and digital download of the entire series in the summer of 2014.
We hope you will work closely with our office to provide nominees of your outstanding women in STEM in this project. We are looking for women in all points of their careers at the Department of Energy National Laboratories, field sites, and headquarters, who have an interest in role modeling and mentoring others in STEM. Please contact project director AnneMarie Horowitz, annemarie.horowitz@hq.doe.gov, to ask questions and submit candidates. Nominations are due by Friday, June 5, 2014.
Thank you for your support and commitment to recognizing diverse and outstanding talent at the Department.