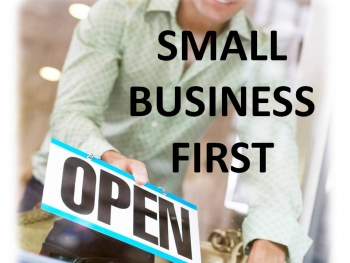 National Small Business Week is around the corner, kicking off on June 17 across the country. The week honors hundreds of thousands of small business that contract with the federal government every year.
Diana Lewis, a West Virginia native and founder of Action Facilities Management, Inc., is one of the small business owners being recognized by her state as the Small Business Person of the Year. During National Small Business Week she will travel to Washington, D.C. to receive an award and compete for the national title, which will be awarded on June 21.
Action Facilities Management is a Small Business Administration certified Native-American, woman-owned business. They began their government service with the National Energy Technology Laboratory (NETL) on a subcontract. Today Action Facilities Management holds active contracts with the Office of Legacy Management to manage security services for their Grand Junction, Colorado office, and does the same for three NETL locations.
A single mother with two children, Diana founded Action Facilities Management in 2001 in the basement of her home after the owner of the last company she worked for got sick and encouraged Diana to start her own business. Diana's first employee was her 17-year-old son. In 2003 Diana's business landed prime contracts under the SBA's 8(a) program, and began hiring additional employees.
Today Diana's company has 300 employees and maintains accounts in ten states including their home base, West Virginia. Lewis' son now runs the company's Washington D.C. office, and her daughter is now working for the federal government. Diana loves seeing the impact of her work through the positive outcomes in her employee's lives.
"The DOE is critical to the nation's future and I am thankful to work with the agency," Diana said. After that first NETL subcontract helped get her start, she's loved working for the Department and "loves the mission of what DOE does – knowing you can be part of that support team is amazing," she said. She's worked to instill the vision that it is a pleasure to perform mission-critical work for the Department in her 300 employees.
Diana recommends other small business owners looking to get their start in federal contracting to engage with the Small Business Administration to make sure the SBA has the most up-to-date information about your company. She also stresses taking advantage of the training and resources they provide in connecting small businesses to government contracting opportunities. That combined with support of other organizations like the Regional Contracting Assistance Center, local resources like Teaming to Win (Diana is on the board of Directors), and in-person networking can be key to success..
Diana practices what she preaches – she's already signed up for the matchmaking sessions at National Small Business Week and is hoping to find leads to working with new agencies. "Keep up on your networking," Diana advises. "Use your friends throughout the entire year and make sure to follow up on the leads that you get."
Follow National Small Business Week and Diana's competition against the other state-nominated Small Business Person of the Year to become the national winner by visiting the National Small Business Week website.