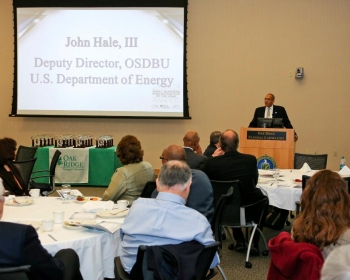 We do billions of dollars in business with small businesses every year at the Energy Department, contracting with businesses across the country to perform mission-critical work. While all small businesses we work with must prove their qualifications up front and their value to the tax payer, there are some that stand out as the cream of the crop in their work performance and efficiency.
On March 22, 2013, I traveled to Oak Ridge National Laboratory to speak with some outstanding small businesses, honoring the work they have done for the Energy Department, during Oak Ridge National Laboratory's Annual Small Business Subcontractor of the Year Awards. Seven small businesses were presented with recognition of their exceptional services.  In addition, several Oak Ridge National Laboratory organizations and staff members were presented special awards for their advocacy.  You can find the full list online at http://www.ornl.gov/info/press_releases/get_press_release.cfm?ReleaseNumber=mr20130325-00
As the largest science and energy national laboratory in the Energy Department, Oak Ridge National Laboratory's science programs focus on materials, neutron science, energy, systems biology, national security, and high-performance computing, where they run several of the world's top supercomputers. They also operate nine user facilities that draw thousands of research scientists and visitors each year.  The small businesses that subcontract from Oak Ridge National Laboratory are part of this cutting-edge work, with a mix of contracts in national security, energy, science, and clean up available.
You can learn more about Oak Ridge National Laboratory's small business program and needs on their website here: http://www.ornl.gov/adm/smallbusiness/