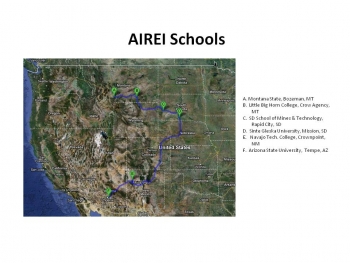 Through a pilot program announced last year, the Energy Department, the American Indian Higher Education Consortium and the American Indian Science and Engineering Society have partnered to bring science, technology, engineering and mathematics (STEM) research and education funding to our nation's Tribal colleges and universities and other U.S. universities around the country.
This program - the American Indian Research and Education Initiative (AIREI) - is funding six schools - three pairs of tribal colleges and mainstream universities - to fund student and faculty research teams to bring energy projects to tribal land. 
The research team from Navajo Technical College and Arizona State University will assess the effectiveness of solar photovoltaic system designs in meeting the electricity demands of Navajo homes and public buildings and develop solar technology curriculum that incorporates the outcomes of this study, helping to advance solar system design and installation on local Tribal lands. 
The research team from Little Big Horn College and Montana State University – Bozeman will develop fast growing strains of nitrogen-fixing cyanobacteria to help advance carbon capture and sequestration (CCS) technologies. The research will support the Crow Nation reservation as it evaluates opportunities for coal-to-liquid fuel and CCS projects.
The research team from Sinte Gleska University and South Dakota School of Mines and Technology will use computer modeling and simulation technologies to evaluate the feasibility of oil and gas development from the Niobrara Formation on Rosebud Sioux reservation. Through this project, the students will build skills in applied energy-related research involving computer simulations, chemistry, geology and petroleum engineering. 
AIREI will support collaboration between these universities on an important community energy project and will connect the team with the technological expertise and mentorship opportunities available through the Energy Department's National Laboratories. 
Tribal lands in the United States are often repositories for coal, oil and uranium, and have tremendous untapped energy potential in wind, hydropower and solar resources. Through the American Indian Research and Education Initiative, the Department is strengthening its commitment to helping Tribal communities across the country develop their local energy resources for a sustainable energy future. 
For more information about our office's work with Tribal communities, visit: http://energy.gov/diversity/working-us/tribal-communities