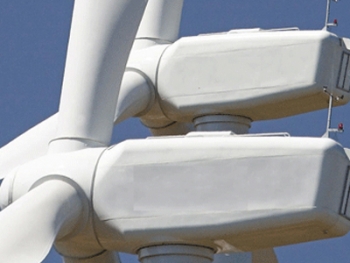 Wind turbine generator nacelle enclosures and nosecones manufactured by Wausaukee Composites, Inc., at a wind farm in northern Illinois | Photo courtesy of Wausaukee Composites.
A wind turbine parts facility in Cuba City, Wis., is getting another chance after shutting down twice and laying off employees over the last two years.
The Wausaukee Composites, Inc. facility will reopen its doors this fall, thanks to new orders from international wind turbine companies that will keep production going into 2012 and beyond.  A 48C Advanced Energy Manufacturing Tax Credit worth over $900,000 will help the company expand the facility to meet the demands, doubling its former production capability rate. 
The federal tax credit, available through the American Recovery and Reinvestment Act, will help alleviate some expansion costs, which are estimated at approximately $5 million.  The upgrades are set to begin mid 2011.
"We were one of the first companies to open in North America to supply large components for utility-scale wind turbines," says David Lisle, president and CEO of Wausaukee, which makes the protective covering for wind generators, known as nacelles. "And we intend to be one of the first companies to expand. We intend to bring back our people and add an additional 150 jobs at Cuba City."
Downwind
The recession didn't leave the wind industry unscathed. Some of the wind farm projects underway in 2008 and 2009 lost funding from banks and investors, resulting in a decline in demand for turbines and parts.
"Our business and the entire wind industry in North America were hit exceptionally hard in the aftermath of the financial crisis," Lisle says.
Wausaukee, which makes plastic products for the transit, construction, agriculture and medical fields in three other plants, decided to branch into the wind business in the mid-2000s. Given the materials they were working with (composite plastic and fiberglass components), it seemed like "a logical extension of the work we do," Lisle says. 
Wausaukee opened the Cuba City plant in early 2008 to make nacelles, which are big enough to drive cars through, to encase the generators for 1.5 MW to 3 MW turbines. But as orders ebbed and flowed, the facility had to open, shut down and reopen its doors. About 90 people lost their jobs in the process.  Today, the site is inactive.
Upwind
Wausaukee Composites has now been selected to produce nacelle, hub and nosecone assemblies for three different turbine models for major international wind turbine companies.
"While the company wasn't making parts in the wind industry over much of the last year, we knew we could still develop relationships", says Lisle.
Wausaukee expects to open its doors later this year and eventually hire and bring back a total of 200 workers.
The company will soon have the capacity to produce about 800 nacelles a year. New lamination equipment, material handling equipment, robotic automation and a large assembly bay will be installed at the plant.
"The [48C tax credit] program allowed us to have greater confidence with respect to the total finances required to facilitate this expansion," Lisle says. "It has provided welcomed assistance at a time when the wind industry needed an incremental boost to accelerate its own recovery."