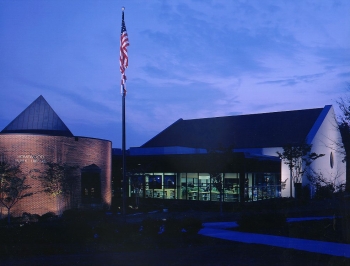 Homewood Public Library at Night | Photo Courtesy of Homewood Public Library
I've always thought that the best ghost stories are found in books. But what happens when the building where the books are kept is also a ghost story?  Such may be the case with the award-winning public library in Homewood, Alabama, a city of 23,000 just south of Birmingham.
In 1987, the Homewood Public Library moved into a nearby former church building, having outgrown the city's original 1950s-era library. It wasn't until a major renovation project in 1996 that the spiritual energy of the building was really awakened.
Workers reported that electrical cords seemed to move by themselves, lights would flicker on and off for no reason and some workers had a sense of being watched. The most common phenomenon reported over the years by staff and visitors are what sound like conversations and meetings in the lower level that used to be the church classrooms and meeting areas. The ethereal sounds have been reported both during the day and after-hours.
Whatever spiritual energy may be floating around the building, the library's actual energy use was a real concern to the city and the state.   
That's why, in 2010, the library received a sub-grant from the Alabama Department of Economic & Community Affairs to replace 15 heat pump units in the Homewood Public Library using $195,240 provided by the Energy Department's Energy Efficiency and Conservation Block Grant Program.  The existing units were inefficient and costly to operate, and some of the heating equipment was original to the 40-year old building.
Deborah Fout, the library's director, said the heat pumps began to be replaced in the spring, and almost immediately they noticed a dramatic change in the comfort of the building. More importantly, the library has realized $6,000 in energy savings since the project was completed in July.  Fout said she has already been able to reduce the library's energy budget estimates by $15,000 for next year. Another benefit has been that the library staff has not had a single heating or cooling-related complaint from patrons, which is a significant change from the way things were before the upgrade.
But have the new energy efficiency upgrades made the local haunts any happier?
"Well, they aren't any quieter, but both the living and the dead here are much more comfortable," Fout said with a laugh.