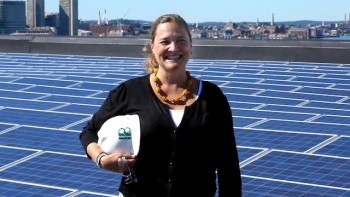 During National Mentoring Month we recognize the critical importance of role models to inspire the next generation of energy leaders. Take a look at our new #WomeninSTEM video series highlighting inspiring women and role models in STEM and energy fields -- like Carter Wall, shown above. | Photo by Matty Greene, Energy Department.
It's National Mentoring Month and a perfect time to consider Dr. Martin Luther King Jr.'s memorable reflection: "Life's most persistent and urgent question is 'What are you doing for others?'"
At the Energy Department, we reflect on Dr. King's question to help guide the direction of our efforts to both mentor and inspire the next generation of energy leaders. In particular, we are focused on ensuring a diverse, future workforce equipped with the science, technology, engineering and math (STEM) skills necessary to lead the Department's mission. Below are a few key ways we're working to accomplish our mentoring goals.
Highlighting Mentors and Role Models
From our ongoing Women @ Energy series to our 10 Questions for a Scientist features, the Energy.gov team produces a variety of features that highlight the compelling work of energy professionals across industry and within the Energy Department. Our latest effort, the #WomeninSTEM video series, raises the profile of women in STEM professions tackling some of the nation's most pressing energy challenges -- from clean energy advancement to climate change solutions. Our goal for these recurring features is to provide students and young professionals with a diverse array of role models to spark their own energy-focused careers.
View the first #WomeninSTEM video profile, highlighting the work of Carter Wall -- a leading energy professional at one of the largest solar developers in the Northeast.
Creating Opportunities
The Department offers a variety of STEM focused internships, fellowships and programs for young students -- from the STEM Mentoring program, which matches undergraduate students to federal employees in STEM fields, to the Mickey Leland Energy Fellowship, which increases opportunities for women and underrepresented minorities pursuing degrees in STEM.
To learn more and apply for Energy Department fellowships, internships and mentoring programs, visit the Office of Economic Impact and Diversity website.
Trailblazing New Initiatives
Within the past few years, the Energy Department has spearheaded two hallmark initiatives aimed at increasing the participation of underrepresented groups in the energy sector -- Women in Clean Energy (C3E) and Minorities in Energy. Led in partnership with the MIT Energy Initiative, C3E focuses on closing the gender gap in the energy sector by providing women with the support necessary to advance to leadership positions in clean energy fields. Launched this past year by the Secretary of Energy, the Minorities in Energy Initiative focuses on encouraging underrepresented Americans to pursue careers in energy -- increasing the diversity of talent working to advance our growing clean energy economy.
View a video of the Women in Clean Energy annual symposium and a slideshow recap of the recent White House Forum on Minorities in Energy.