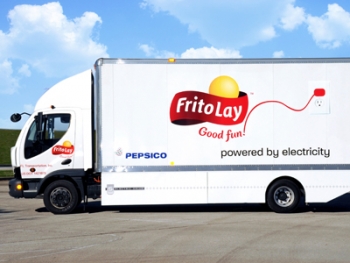 Through a Recovery Act grant, that company - Smith Electric Vehicles (SEV) – is taking a different tact that could lay the foundation for the industry's future. Not only is the company manufacturing all-electric, zero-emission commercial trucks, it's collecting data on how these commercial EVs are used. In Kansas City, Mo., an 80-year old company is on the cutting edge of a growing, new domestic industry – electric vehicle (EV) manufacturing.
SEV received a $10 million dollar grant from the U.S. Department of Energy in July 2009. The company received another $22 million through the Recovery Act. The company is matching the DOE funds with $36 million in private capital.
"We had made the commitment to move forward prior to receiving Recovery Act money, but the funds helped us bring more people on board and increase our production capacity," says CEO Bryan Hansel of the company's development program.
The grant money and the subsequent hiring spree helped jump start the development program, which has been one of the CEO's top goals since he joined the company in 2008.
Since July 2009, the company has hired more than 30 employees and plans to double its fifty-person workforce by the end of the year.
Tracking 510 trucks
For the development program, Smith is manufacturing 510 electric trucks with onboard telemetry systems. These systems allow company engineers to monitor the trucks' mileage and electricity use. Participating companies agree to purchase at least one truck at an average cost of $147,000.  Smith will pay each company approximately $25,000 per year, per truck to allow Smith engineers to monitor the trucks' functions over a two- to three-year period. The engineers will then share the data they gathered with DOE officials to demonstrate the ability of EV trucks to compete with diesel trucks.
Participating companies, including Frito Lay, Staples, Coca-Cola, AT&T and Pacific Gas and Electric Company (PG&E), see other financial benefits with EVs. In addition to the $25,000 participation stipend, companies will reduce their fuel costs by $8,000 to $10,000 a year per truck and save an average of $2,000 a year on maintenance costs.
"The deliverables of this project are the money companies will save by using our trucks, and the information we are supplying DOE officials to help them understand how electric trucks compare to the diesel trucks currently used by most commercial shipping companies," says Hansel.
Smith's trucks are powered by lithium-ion batteries, which can be recharged overnight by plugging into 220-volt electrical outlets. The trucks can travel 100 miles on a single charge and can carry payloads of up to 26,455 lbs. 
Preparing new technologies
Hansel has spent the majority of his career in product development and is familiar with the challenges of bringing new technologies to market. He firmly believes that electric vehicles can be a profitable domestic industry that has a positive impact on employees entering in this field.
"The efficiency of our electric motor is much higher than the engines found in diesel trucks, and our trucks can save companies a significant amount of money every year," says Hansel. "Drivers feel better about their job when they know they are doing their job and something good for the environment."
If the program is successful, Smith plans to build factories capable of producing 25 trucks a week in 20 markets across the country.
"The DOE project has been a game changing program for us," says Hansel. "The support from DOE has helped offset the financial burden of product adoption and accelerated our ability to bring volume supply of our trucks to companies at a competitive price."