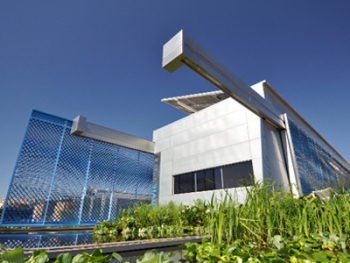 Virginia Tech's solar-powered Lumenhaus was designed for maximum efficiency as well as comfort. | Photo courtesy of Lumenhaus
Collegiate teams from around the world came to Madrid this month to present their solar-powered houses in the first biennial Solar Decathlon Europe, a competition modeled after the Energy Department's Solar Decathlon in Washington, D.C.
As one of just two teams representing the United States, Virginia Tech earned enough points with its Lumenhaus to win the overall competition.
"We competed against high quality teams with significant support from their governments," says Robert Dunay, a faculty leader of the Lumenhaus team. "That we won over two German schools from the leading country in the world on alternative energy is most rewarding."
According to the team's website, the Bauhaus style of Lumenhaus was inspired by architect Mies Van Der Rohe's Farnsworth House. Designed to be completely self-sufficient, the home features open, flowing spaces and two walls made entirely of glass to maximize natural lighting. The roof is covered with 45 Sanyo Hit Double photovoltaic panels, allowing the zero-emissions house to operate completely on solar power. These panels are bifacial, meaning they collect energy from both the top and underside of the panels through indirect light.
Despite Lumenhaus' relatively small, rectangular footprint of 16 by 45 feet, its automated Eclipse System features independent sliding layers that double the floor space when opened and connect the home to the outdoors. Screens and shutters in the Eclipse System allow for sunlight to be filtered to varying degrees during the day, and at night the home is lit by a low-energy, long-lasting Light Emitting Diode (LED) system.
In addition to the efficient design, the materials of the home were chosen specifically for their sustainable properties. For example, zinc panels were used for their durability, longevity and low maintenance. All fixtures are low-flow, water-saving devices and all rainwater is harvested for reuse. Ponds in the landscape serve as a gray water management system.
The design proved to be successful in the 10-day competition, which consisted of a contest each day to judge the teams' houses in categories ranging from sustainability to comfort conditions. Virginia Tech placed in almost all ten categories, winning the overall competition with a score of 811 points out of 1,000.
"To come to Europe and win at a competition based on design, energy and sustainability is greatly rewarding, particularly knowing how the advanced the Europeans are in these areas," says Joseph Wheeler, also a faculty leader of the Lumenhaus team.
There were 17 solar houses from seven different countries on three continents that participated, including the University of Florida. All teams presented houses that they had designed and built.
 "Being #1 in this important international competition adds credibility to the worldwide statue of Virginia Tech and in particular to the College's capability in design research," says Jack Davis, dean of the College of Architecture and Urban Studies at Virginia Tech.