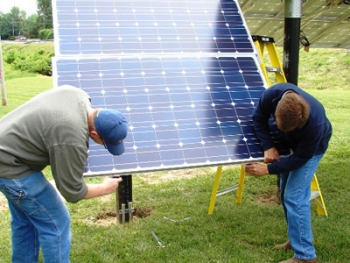 IBEW 725 electricians install solar panels at the union's hall in Terre Haute. | Photo courtesy of IBEW 725
Electricians in Indiana believe solar power is the future, and they are preparing for it.
The International Brotherhood of Electrical Workers Local 725 (IBEW 725) in Terre Haute, Ind., purchased 60 solar panels and plans to train its members in solar installation.
Todd Thacker, business manager for IBEW 725, says some Indiana utility companies estimate they will generate 20 percent of their electricity from renewable energy sources in the near future. Thacker wants IBEW 725 electricians to be ready.
"We believe in leading by example. We want to be ready for the renewable energy market before the market is ready for us," says Thacker, recently installed 20 solar panels at a rental property he owns in Illinois.
In order to prepare union electricians, IBEW 725 purchased the 60 solar panels using a $42,580 grant from the U.S. Department of Energy's State Energy Program and $47,000 in matching funds.
Serving two purposes
This past May, IBEW 725 electricians installed the panels at the union's hall in Terre Haute. Since their installation, the panels have generated 4,835 kWh of electricity, saving IBEW 725 $2,080 and reducing potential CO2 emissions by 7,462 lbs.
But according to Thacker, the panels' real payoff is the hands-on training opportunities they will provide union electricians and participants in IBEW 725's apprentice program, which runs every year from August to May.
"We offer a five-year apprenticeship program that certifies participants as journeyman electricians and gives them the option of earning an associate's degree from a local technical college," says Thacker. "Our curriculum has always included a theoretical unit on solar power and the panels will allow us to add hands-on training and offer certifications in solar panel installation."
As part of their studies, apprentices will disassemble and then reassemble the solar panels in four-man teams over a five-hour period to prepare them for work on a commercial or residential property. They will also test the efficiency of the solar energy system and measure their ability to convert sunlight to electricity.
Solar panel training courses will also be offered to current union members who wish to bolster their credentials. According to Thacker, certain states require electricians to have experience working with solar panels and the certifications IBEW 725 will offer as a result of this project will help build customers' confidence in the electricians' abilities.
Thacker, who completed his apprenticeship in 1988 and worked as an instructor for 15 years before being elected to his current position, is a strong proponent of solar energy. "Indiana has the potential to generate a great deal of power using solar energy, and IBEW 725 is preparing to meet this demand. I plan on taking a solar panel class because I want to learn more about this technology."