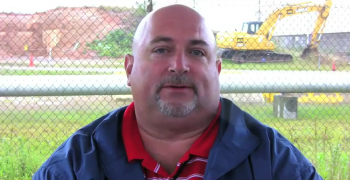 Bill Picciano tells us about his job at the Energy Department's Savanna River Site. | DOE Photo
When we last spoke with Bill Picciano in October 2009, he had been recently hired at the Savannah River Site (SRS) – a job funded by the Recovery Act to accelerate the cleanup of the former nuclear weapons research site and make the site safe for future generations.
Like too many Americans, before Bill was hired at SRS, his family found themselves in a tight financial situation. The father of two had been laid off three times between 2005 and 2009, a trying period that came to a head when the family found themselves unable to make the next month's house payment.
Thankfully, a call from SRS came just a few weeks later -- and he was offered a job with the Transuranic (TRU) Waste project as a Logistics Expeditor. Soon enough Bill had a steady paycheck – and he and his family were able to stay in their North Augusta, SC home.
After a year doing operations support work with the TRU Waste Program -- "Doing just about anything anybody needed" -- Bill saw a job opening online for a similar, albeit permanent, position with the SRS.
"I got a little excited when I saw that," he told us when we followed up with him recently. So after checking with his supervisor at the TRU Waste Program – who encouraged him to apply for the permanent position -- Bill put in for the job.
Within two months, Bill officially became an Associate Engineer/Technical Support Specialist at SRS with the Nuclear Nonproliferation (NNP) Engineering Group. He is assigned to the Waste Solidification Building Project (WSB), where he now manages the day-to-day operations of SmartPlant Foundation for the project. The Waste Solidifcation Building Project, where waste from PDC will be solidified and dispositioned, is the tail-end of the Pit Dissassembly and Convertion Project (PDC). This facility will be the first of its kind, and will disassemble surplus nuclear weapon pits for material recycle and disposition. Its been over a year since Bill became a permanent employee, and in total he has worked at SRS since June 2009. 
Thanks to investments in energy jobs made by the Recovery Act, Bill and his family were able to stay in their house, and he says that the family is happily approaching their tenth year in North Augusta. "With this job, everything fell into place. I feel like I belong here."
"The folks I've worked with on the project here and the folks in the Department have been very good to me…I couldn't have asked for a better group to work with."