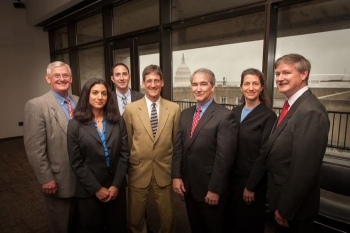 The Department of Energy is pleased to announce that two federal employees have been recognized by the Partnership for Public Service. Paul Jablonski and Josh Silverman are two of the 31 finalists for this year's eight Samuel J. Heyman Service to America Medals. The award pays tribute to the dedicated federal workforce, highlighting those who have made significant contributions to our country. Honorees are chosen based on their commitment and innovation, as well as the impact of their work on addressing the needs of the nation.
At the Department, we work to attract the best talent possible. Mr. Jablonski and Mr. Silverman exemplify the Department's mission of ensuring America's security and prosperity by addressing its energy, environmental and nuclear challenges. Without dedicated public servants, the Department would not be able to perform the critical transformative science and technology solutions we are tasked to accomplish.
Paul Jablonski, Metallurgist
National Energy Technology Laboratory (NETL)
Albany, Oregon
Dr. Jablonski was nominated for the development of a novel platinum/chromium alloy for the manufacture of improved coronary stents. This alloy is the first stainless steel formulation with significant concentration of a highly "radiopaque" element to be produced for the stent industry. By increasing the x-ray visibility of the stent inside a patient, the alloy solves a longstanding problem of poor visibility when using standard stainless steel stents. This better visibility means greater ease and precision of placement of the stent inside the patient's artery and less chance of damage to the artery. The alloy was jointly developed by NETL and Boston Scientific Corporation Inc.
Josh Silverman, Director of the Office of Sustainability Support
Department of Energy Headquarters
Washington, DC
Dr. Silverman examined the operations at the Department's national laboratories, production facilities, and power administrations and found that little attention was being paid to the unintended releases of sulfur hexafluoride, the world's most potent greenhouse gas. Leading a departmental working group, Silverman identified huge gaps in air pollution controls at DOE facilities and initiated steps to prevent the discharge of these emissions. This included conducting effective maintenance and repairs to reduce leaks and deploying technologies to capture and reuse these gases. The Department estimates it has halted the release of about one million metric tons of greenhouse gases since 2009, the equivalent of eliminating polluting emissions from 200,000 passenger vehicles every year.
The Partnership for Public Service is a nonprofit, nonpartisan organization that works to revitalize the federal government by inspiring a new generation to serve by transforming the way government works.