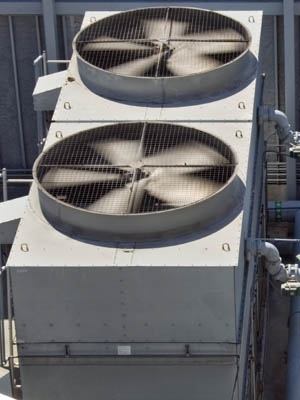 Winston County School District will receive 14 new HVAC units with State Energy Program funding. | File photo
Addison Elementary School and Double Springs Elementary School in northwestern Alabama were warm.
Some classrooms just didn't cool fast enough. The buildings, which were built almost 20 years ago, were in need of new HVAC units.
"We couldn't get parts for the old units anymore," says Danny Springer, buildings program manager for the district. "They'd break down and we couldn't fix them fast enough. We were putting in individual window units in classrooms to make sure they were cool enough in there."
Winston County Schools will be replacing 14 heating, ventilation and air conditioning (HVAC) units in these schools as part of an ongoing renovation campaign. Winston's HVAC replacement project received a boost from the Alabama State Energy Program, which granted the school district a little more than $82,000 in Recovery Act funding through the U.S. Department of Energy.
With the new units, Springer says they should save around 10 percent off of electricity costs a year— around $8,250 annually.
Funding fuels retrofits in other school districts
For the last few years, Springer says the county has been working to replace old HVAC units in the schools. Starting with the oldest unit, and working their way up, the district has been able to get through four or five unit upgrades per year. The additional funding will allow them to triple that.
According to Karl Frost from the energy department at Alabama Department of Economic and Commercial Affairs (ADECA), ADECA has been running a school retrofitting program since 2005. The program provides funding for Alabama public schools to finance retrofitting projects, including HVAC units, lighting upgrades, energy management systems, programmable thermostats, occupancy sensors and window upgrades.
"With the Recovery Act funding, we were able to inject about $5 million into this program," says Frost. Since the Recovery Act passed, 19 school districts have been able to participate in the program.
"Before the Recovery Act, we had fewer than 10 applications to participate. It's now between 30 and 40."
Frost says that Winston County Schools have been easy to work with and appreciative of the money. "They've tremendously excelled in every aspect of anything we've asked."