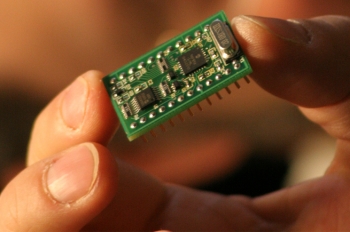 The future of the computer chips that serve in supercomputers, smart phones, sensors, vehicles and appliances may hinge on a new material developed by researchers at Northwestern University that rearranges itself to steer or stop an electrical current. | Photo courtesy of Pacific Northwest National Laboratory.
It often feels like computers have minds of their own -- particularly if you've ever downloaded a virus. But even with a virus, the computer is just following commands and not marching to its own beat. But what if computers could actually perform tasks on their own?
Researchers at Northwestern University, supported by the Energy Department's Office of Science, have taken a significant step toward just that. A team recently created a new material that can automatically rearrange itself to steer or stop an electrical current -- a trait highly desirable in future computer chips. 
The material consists of extremely small gold nanoparticles about five nanometers wide (by comparison, a human hair is approximately 80,000 nanometers wide), whose outside coats consist of positive charges. At the touch of an electrical current, the material's nanoparticles configure into tiny channels through which the negatively charged electrons flow.
The discovery's team leader, Bartosz Grzybowski, a professor of chemical and biological engineering, likens it to redirecting a river. "Streams of electrons can be steered in multiple directions through a block of the material -- even multiple streams flowing in opposing directions at the same time," he said.
Changing the electrical current applied to the material steers the flow of the current in different directions. So, at the flip of a switch, the new material goes from letting the electrons in an electrical current flow to blocking them, or forcing them to move in specific directions at particular times: From acting like a transistor to acting like a resistor, or even a diode or a rectifier.
This flexibility won't lead the way to robots that transform themselves from cars and jets into fighting machines. But it could lead to something just as intriguing, and perhaps far more effective: chips and computers that quickly and constantly adapt to a person's needs. These new devices could perhaps serve in supercomputers, smart phones and sensors, vehicles and appliances – practically everywhere a computer chip appears. 
There's hope, or at least potential and empowerment, in new discoveries and innovations. That's what the Office of Science does: It supports basic research in the physical sciences that has the potential to become truly transformative. 
And should computers ever develop minds of their own -- the amazing stuff of science fiction coming true -- they may at least be able to explain why they deleted or misplaced that desperately needed file.
Read more about it in latest edition of Nature Nanotechnology. Or read more about the Office of Science and Office of Basic Energy Sciences.