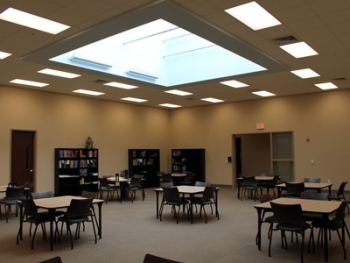 A vacant grocery store was converted into The Elkin Center, a workforce training center in Elkin, N.C. | Courtesy of Joe Seipel-Parks, West Depot Architecture
Leaders in the local community had a vision of what this space could do as an economic development hub for the communities of Jonesville, Elkin and the counties of Yadkin, Surry and Wilkes. For more than five years, a large grocery store stood abandoned, leaving a disheartening void at one of the busiest intersections in Elkin, N.C.
So, for the last two years, the town, Surry County, and Surry Community College have planned and raised funds to convert the vacant supermarket.
Earlier this month, the converted and energy-efficient space – the Elkin Center – opened. The Center will help students earn a general equivalency diploma (GED), as well as help business leaders looking to sharpen their skills via webinars and visiting experts.
"It is a wonderful investment for the town because it brings critical training access directly to our community," says Leslie E. Schlender, economic development director for the Town of Elkin, of the project funded through the Recovery Act and public-private partnerships.
Creating a better building
Turning a 23,000 square foot shell that had only a few windows into a vibrant, energy-efficient education facility was important to the leaders.
The contractor installed nine new HVAC systems and a programmable energy management system and added R-13 insulation in new furring walls and added R-20 insulation to the new roof system. The new exterior building assembly now has a reflective Firestone UltraPly TPO roof with an insulating value of approximately R-31 and a new wall insulating value of approximately R-19.
"Based on our energy analysis, this has reduced the required cooling capacity from 435,970 kWh to 298,710 kWh, resulting in substantial energy savings and reduced mechanical equipment sizes," says Joe C. Seipel-Parks of West Depot Architecture.  
The contractor also took other steps to improve energy efficiency.
"We also replaced the outdated 8 EER roof-top-unit with new 13 EER RTUs which has greatly increased the unit efficiency resulting in an estimated 27 percent decrease in energy consumption," notes Seipel-Parks.
A new entry vestibule and air-lock at the main entrance to the facility reduce the amount of conditioned air loss from inside the facility.
Let the light in
"I couldn't imagine going to school and not having any natural light inside the classrooms or particularly in the common spaces," says Seipel-Parks. 
"So we added skylights at the intersections of the hallways to give the interior corridors a punch of much needed natural light. With small windows in each of the classroom doors, the daylight would naturally filter into each of the instructional spaces," he says.
In the building's GED Learning Center, the general contractor Garanco Inc. raised the ceiling height to thirteen feet and installed a 13-foot by 16-foot skylight.  They also installed large interior windows and double French doors on two sides of the room allowing the light to escape into the hallways and other common spaces.  This reduces energy consumption by lessening reliance on artificial light.
"We wanted to make it as modern and green as possible to set the precedent for other projects like it," Schlender says of the transformation.  "You can use an old building, convert it in energy efficient ways and it's better than new."
Public-private funding
The initial retrofit concept was developed in the fall of 2008, but planning ramped up in the spring of 2009 with the help of a $200,000 grant from Golden LEAF Foundation and a $46,000 grant from the North Carolina Small Towns Economic Prosperity Program (N.C. STEP), which helps small towns reinvigorate their economies. 
The N.C. State Energy Office provided an additional $200,000 through its Energy Efficiency and Conservation Block Grant program. This allowed Elkin to formalize plans and move forward with the bidding process early this year.
Garanco, the winning bidder, had as many as 20 workers on site daily to complete the project in just four months, says budget manager Ricky G. White.  The team included demolition crew members, plumbers, block masons, metal stud framers, dry wall, HVAC, electrical, plumbing, flooring, painting and skylight contractors. Additionally, full- and part-time superintendents were on site at all times.
"The most exciting part of the transformation is the quality and depth of design and thought that was put into it," Schlender says.  "It could have been a simple square, cubby-hole transformation, but instead the architect and contractor took steps to facilitate within our budget as many modern, efficient and aesthetic qualities as possible, making it a place that instantly feels professional rather than medicinal; a place where all types of students will feel proud to seek the skills in which they are in need of. "