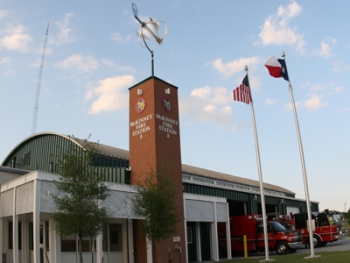 Wind turbines like this will grace Gabe Nesbitt Community Park in McKinney, Texas, thanks to an Energy Efficiency and Conservation Block Grant | Photo courtesy of McKinney, Texas
Thirty miles to the north of Dallas, Texas, the city of McKinney is one of the fastest growing cities in the nation – and included on Forbes' top 25 best places to move.
According to Julie Smith, manager of McKinney's Office of Environmental Stewardship, the city is thinking ahead and wants to save money in the short term and provide its fast-growing population with the tools to become more energy efficient and environmentally friendly.
Smith believes that providing citizens with the tools to reduce their energy demand is critical to improving energy efficiency and saving the community money.
"People in McKinney recognize how important energy conservation is, both economically and environmentally, and to the long-term sustainability of our community," she says. "It is our job to provide them with the tools to meet that goal, and the DOE grant gives us the resources to do just that."
To do that, the city is using a $1 million Energy Efficiency and Conservation Block Grant (EECBG) through the Recovery Act to fund eight projects and hire someone to manage them.
"McKinney is like many other cities that have been affected by the recession in that we've had to reduce our budget and postpone re-hiring a vacant staff position," says Smith. "The Energy Efficiency and Conservation Block grant has helped us begin many wonderful projects and create a position to oversee them."
From strategy to savings
City officials used part of the grant to hire a consulting firm to develop a comprehensive energy efficiency and conservation strategy (EECS). The EECS outlines eight projects the city can undertake to reduce its carbon footprint and save local taxpayers money.
To oversee the strategy, Smith is in the process of hiring someone to fill the new position of environmental and grant coordinator. This individual will help manage the projects.
Another project is the replacement of high-pressure sodium light bulbs in 97 streetlights with LED light bulbs. The LED light bulbs are projected to reduce annual electricity use by 3.1 million kWh annually and reduce potential CO2 emissions by 1,609 lbs.
One project in the works is the installation of solar panels, solar tubes and wind turbines in Gabe Nesbitt Community Park, home of two libraries and several athletic fields. After installation is completed, energy meters will be hooked up to each device so residents can see how much electricity each device generates under different weather scenarios. The city will also provide information to citizens interested in installing renewable energy devices at their homes and businesses.
The city is also developing a water conservation education and marketing plan that will provide information about how citizens can reduce their water consumption.
"Access to water is a huge issue in this part of the world, and during our carbon footprint analysis we discovered that the city uses a lot of energy to pump water to homes and businesses and for irrigation of ball fields and parks," says Smith. "Reducing the city's water use will also help us reduce energy use."