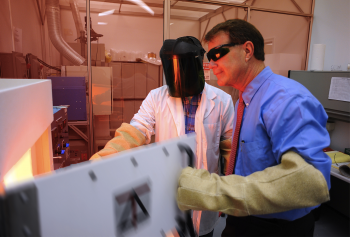 Dr. Thomas O'Neal of the University of Central Florida at Optigrate, a manufacturer of optical electronic components. Both the university and manufacturer are part of the Igniting Innovation Cleantech Acceleration Network.
A project aimed at spurring growth in clean technologies — the Igniting Innovation Cleantech Acceleration Network -- is helping to support the economically depressed area surrounding Orlando, Florida by providing an extensive network of resources for entrepreneurs.
It's one of three partnerships the Energy Department selected for funding as part of the i6 Green Challenge, which is a $12 million initiative that rewards innovative, ground-breaking ideas that enable technology commercialization, job creation and economic growth. The i6 Green Challenge builds on the success of the Obama Administration's i6 Challenge, and more specifically targets the clean energy technology markets of the 21st century.
"America's economy depends on both innovation and commercialization," U.S. Chief Technology Officer Aneesh Chopra said. "These six proof-of-concept centers will help to accelerate the commercialization of products based on exciting new research and support the development of green jobs in regions across the country."
The challenge encourages and rewards "Proof of Concept Centers," which support all aspects of the entrepreneurship process, from assisting with technology feasibility and business plan development to providing access to early-stage capital and mentors that can offer critical guidance to innovators.
The Energy Department is supporting three of the six centers.  The Department's centers focus on promoting energy efficiency and renewable energy to spur economic development:
The iGreen New England Partnership seeks to extend the traditional innovative strength of metropolitan Boston throughout New England, particularly to areas suffering from economic downturn. 
The Washington Clean Energy Partnership will leverage substantial state investments in distributed testing and laboratory facilities to build practical, regional expertise in energy efficient building technologies. 
The looks to capitalize on the highly-skilled workforce available in central Florida to turn the area into a hotbed of cleantech innovation.
As Secretary Steven Chu said last month, "By supporting small businesses and entrepreneurs to accelerate innovative clean energy technologies into the marketplace, we will strengthen U.S. competitiveness and promote economic development across the country."
This initiative is a part of a portfolio of Energy Department initiatives, including the Innovation Ecosystem Initiative and the National Clean Energy Business Plan Competition, to increase energy security and American competitiveness.