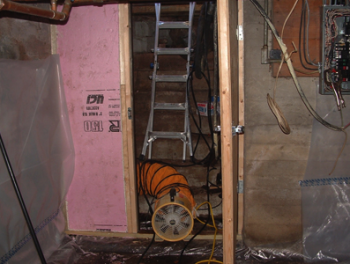 Eldred French had the basement in his home (pictured above) insulated and sealed by local contractors. | Photo Courtesy of NWWVT
Most telethons raise money for charities or events and have local celebrities and even dancing children.
But the subdued, small telethon in Shrewsbury, Vt., in a unique twist, didn't ask for money: town volunteers offered up a home energy audit—at a fraction of the typical cost—to the person on the other end to help them save money on their utility bills.
Eldred French, who runs a tree surgeon business and is also a state legislator, and his wife Lily, a speech therapist, were one of the families to get a call that night in late September, when five volunteers from the Shrewsbury Energy Conservation Commission reached out to 215 households in the small town of 448 households.
The French's were making dinner when the phone rang.  It was someone trying to pique their interest with a $50 home energy audit that normally costs $350.  
"We were thrilled to get the call," Eldred says. "It was something we were thinking about but never did…..And I knew this house was a good house for an audit."
One "kitchen table" discussion, an energy audit and a retrofit later, the French's had their wet, cold basement—the culprit responsible for the 75 year-old house's leaking air—properly sealed and insulated.
Reaching out
The organizer, the NeighborWorks of Western Vermont (NWWVT) , kicked off the program in Shrewsbury with the telethon, an unconventional yet successful venture they hope to mimic in the remaining 26 towns in Rutland County.
About 82 Shrewsbury households expressed interest in a home visit and/or energy audit that night.
The home energy audits are being supported through the U.S. Department of Energy's BetterBuildings  program, which awarded NWWVT $4.5 million to provide home visits (where they received CFLS, low-flow shower heads), audits and subsequent loans to perform more substantial retrofits, like insulation and furnace replacements.
"I think the barrier that has stopped people in the past is the lack of knowledge of where to go and how to get it done," says Ludy Biddle, executive director of NWWVT. "This is making it extremely easy for them."
To help residents afford the retrofits identified in the audit, the nonprofit is offering a 4.9 interest rate up to a 10 year term, with the loan payment less than the estimated savings per month, Biddle says.
Tighter homes and more jobs
About 17 contractors, with teams of two or three people, have signed up to perform the audits and retrofits, with many having to hire another person to perform the upcoming tasks, Biddle says.
Since September 24, they've done 12 home visits and 18 energy audits.
NWWVT is now working with other nonprofits and rotary clubs throughout the county to set up telethons in the remaining towns.
The French's are the first household to have completed both the energy audit and retrofit under this program.
When the auditors came back after the retrofits, they tested the house again to see what improvements had been made: it was 40 percent more efficient. Eldred says he expects to save that same amount on his winter fuel heating bills.
"I can't believe it took us 30 years to do something like this," Eldred says. "But it did."