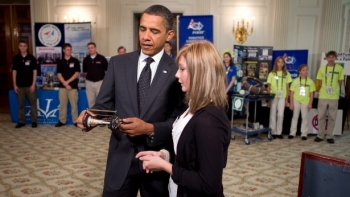 The President looks at a model solar car built by Mikayla Nelson of Montana, White House Photo, Chuck Kennedy, 10/18/10
Mikayla Nelson doesn't understand the concept of slacking. At 14 years old she works at a local hobby store to help pay her way through school, takes flying lessons and is restoring both a plane and a 1967 VW Beetle. Somehow, she has still found time to be an integral part of a team that has made two consecutive trips to the National Science Bowl, winning 1st place for the design document on their solar car in last year's competition. Not bad for a freshman in high school.
When asked what drives her to tackle so many ventures at such a young age, Mikayla responds "success is kind of addicting." That's a sentiment that Joseph Botros from Terre Haute South Vigo High School would probably agree with. He's has participated in the Science Bowl for six years, helping guide his team to a national championship on two occasions.
Both of these ambitious students took part in today's White House Science fair, exhibiting their award winning projects for the President and Secretary Chu, along with other leaders of academia and industry. President Obama offered his congratulations to all the students in attendance and reflected on the impact that their passion for science and innovation could ultimately have on America's future:
"We can think of Einstein, Edison, Franklin, Tesla, and the founders of Google and Apple and Microsoft. But now we've got some other people to think about -- like Mikayla Nelson."
In light of the drive and determination that Mikayla and other students in attendance have already shown, that's not just praise, it's a challenge – one they'll be more than happy to answer in the years to come. 
John Schueler is a New Media Specialist with the Office of Public Affairs.