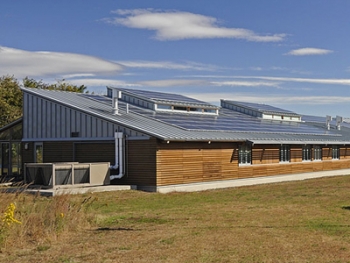 The 112-panel solar photovoltaic system at Parker River National Wildlife Refuge's visitor center and administrative building generates about 35% of the facility's average electricity needs. | Photo courtesy of Parker River National Wildlife Refuge
The U.S. Fish and Wildlife Service's mission to conserve nature hasn't changed in the 30 years since refuge manager Graham Taylor began his career.
Today he oversees all of the budget, administration, biological programs, and public use for four wildlife refuges in Massachusetts—Parker River, Thacher Island, Great Bay and Wapack.
Energy efficiency upgrades and savings fall under his purview.
Chief among them is a new emphasis on bolstering the energy efficiency of administrative and visitor buildings.
"The goal for all of us these days is to minimize our impact on the environment in all areas of our operations," Taylor explains. "Building facilities that are as green as they can be made, given limitations such as funding, is important."
Sustainable design
The Parker River Wildlife Refuge in Newburyport, Massachusetts, which Taylor has managed since June of 2006, is most well known for its 4,662 acres of sandy dunes, grasslands, maritime forest and cranberry bogs populated by deer, coyotes, red fox, garter snakes, snapping turtles, spadefoot toads, insects, plants and 350 species of birds.
But its visitor center and administrative building is noteworthy too. The 2010 Federal Energy and Water Management Award winner was constructed in 2003 as a sustainable design exemplar and was upgraded in 2009.
Today it boasts high-efficiency office and exhibit lighting, a super-insulation building envelope, and a 112-panel solar photovoltaic system that on average generates about 35% of the building's total electrical needs. Moreover, the solar panels have reduced greenhouse emissions. More than 77,000 pounds of carbon dioxide have been avoided to date.
A natural-gas fired heating system and new air conditioning system installed in 2008 now heat and cool the office more efficiently. The original geothermal system needed replacement due to corrosive ground water.  Together, the measures reduced energy costs by more than a third in fiscal year 2009.
Benefits add up
"The staff is much more comfortable and you don't see as many little space heaters around the office," Taylor says of the HVAC upgrade. "Beyond that, we haven't spent anywhere near the amount of time and money required to maintain the failing geothermal system."
The refuge also is considering adding solar panels to a maintenance building, purchasing alternative fueled vehicles, and adding some small wildlife-friendly wind turbines to save money and increase stewardship.
The emphasis on sustainability also offers lessons that visitors can take home with them. "Now visitors can see what we're doing to minimize our impact and improve or increase our energy conservation so they might consider what they can do."