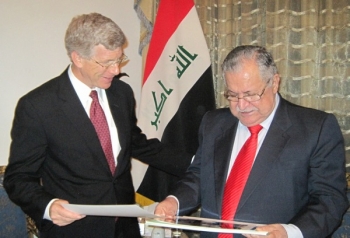 Deputy Secretary Daniel Poneman and Iraqi President Jalal Talabani exchanging official photographs as they conclude their meeting. | Energy Department Photo
Last week, as part of a week-long trip to the Middle East, Deputy Secretary Daniel Poneman led a U.S. interagency delegation for a three-day visit to Baghdad. The trip is part of the U.S. Government's broad commitment to partner with Iraq as it continues to rebuild and grow its economy.
While there, he met with a number of senior level officials and ministers, including Iraqi President Jalal Talabani. Discussions throughout the trip focused on ways the U.S. can help support Iraq's efforts to improve the performance of its electricity system and develop the country's oil and gas resources for the benefits of the Iraqi people.
As part of this effort, the U.S. will seek opportunities to share best practices, drawing on the expertise of the Department of Energy and our national labs. In fact, later this year, the Department of Energy will join with the U.S. Department of State to host an Electricity Reform Workshop that will provide policymakers and engineers in Iraq with a better understanding of the types of options and regulatory frameworks that are available to help expand the country's electrical system.
Deputy Secretary Poneman also used the visit to meet with a number of American and international companies working with Iraq to develop its energy resources. These private sector companies provided an important perspective about the challenges and opportunities they see in moving forward with new projects and helping to grow the Iraqi economy.
Over the coming months and years, the United States will continue to work with Iraq to address critical energy issues and support the country's stability and prosperity.