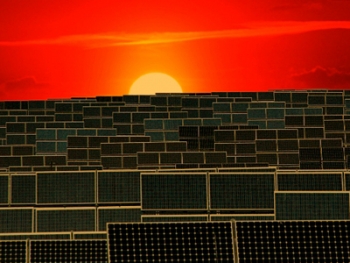 Helios USA will build photovoltaic modules such as these this fall. | File photo
$1 million loan through Wisconsin funded by Recovery Act to Helios USA
Loan helps cover upfront costs of 40,000-square-foot factory
20 employees to be hired this year, more than 100 within five years
Helios USA, a startup solar energy company based in Wisconsin, will begin manufacturing photovoltaic modules in Milwaukee this fall. The firm is the first in the state to do so. Helios, founded in February 2009, received a $1 million loan from the state in May 2010, funded by the American Recovery and Reinvestment Act, to assist with capital toward its 40,000-square-foot factory.
The company selected Milwaukee because of its location and well-prepared workforce.
"Wisconsin has a strong manufacturing heritage," CEO Steve Ostrenga says. "Milwaukee is rich in manufacturing expertise and is centrally located for distribution."
The company plans to hire about 20 employees by the end of 2010, more than 50 by summer 2011, and is expected to grow to more than 100 employees within five years. The jobs are advanced manufacturing jobs, and employees will be operating robotic manufacturing platforms.
"We are looking for people who want to begin a career in solar," Ostrenga says. "To deliver a quality product and have a sustainable enterprise, it starts with a vested, motivated team."
Although the company is less than two years old, the management team has more than 70 years of manufacturing experience. Ostrenga says he wants to see the company make solar panels more mainstream and ultimately expand the solar market.
"The key success factors will be to drive operational efficiencies and to produce highly efficient modules," he says. "This will make solar mainstream and ultimately expand the solar market not only in Wisconsin but also globally."