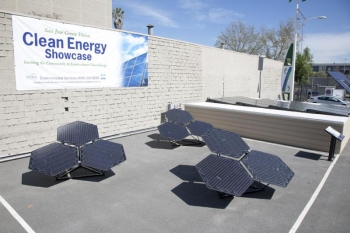 Solar panels on display at the the San Jose Solar and Energy Efficiency Fair | Photo credit: Stacy H. Geiken Photography
If you live near San José, you can check out the latest in clean energy technologies and learn how to save on your utilities bills or solar installation at the city's "Solar and Energy Efficiency Fair" tomorrow.
The showcase will features self-guided tours and energy workshops. It also boasts the first outdoor demonstration site of large scale, cutting-edge solar, wind, electric vehicle and energy efficiency technologies that is open to the public.
Located on a highly visible site directly across the street from City Hall, the fair will educate consumers about clean energy solutions, advance green collar workforce training, and provide vital training and education for San José's students.
The event will take place on Saturday, April 30 from 10am to 3pm CT at the San Jose Green Vision Clean Energy Showcase.
San José's Showcase is organized by the City of San José and funded through donations and a Department of Energy Solar America Cities grant through the American Recovery and Reinvestment Act. You can pick up more details about the event here.
Susan Carollo is a Senior Communications Specialist and contractor to the Department of Energy's Solar Program.