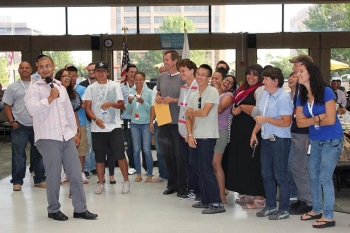 The City College of New York team gathers at the 2011 Solar Decathlon's All-Team Meeting, immediately before the assembly stage of the competition. | Photo Credit: Carol Anna/U.S. Department of Energy Solar Decathlon.
Students teams are now working 24/7 to assemble the solar-powered, energy-efficient homes they've designed for the Solar Decathlon in time for the start of the competition next Friday. Visit the Solar Decathlon site to learn how you can tour each of the 19 homes online and in person.
Filled with energy and excitement, student teams gathered the All-Team Meeting last night to kick off the U.S. Department of Energy Solar Decathlon 2011. The teams—representing 13 U.S. states, five countries, and four continents—received an enthusiastic send-off from Solar Decathlon organizers and sponsors in preparation for the assembly phase of the competition.
Over a buffet dinner, Melissa Segil of Middlebury College explained how the Solar Decathlon has had a powerful impact on her education.
"I've learned more on this one project than I have in four years of college, " Melissa said. "Each of our team members worked to construct our house. The Solar Decathlon is an amazing hands-on educational experience."
Over the next seven days, the teams will work around the clock to build their highly energy-efficient, solar-powered houses at the National Mall's West Potomac Park. The Solar Decathlon opens to the public on Friday, Sept. 23, at 10 a.m.